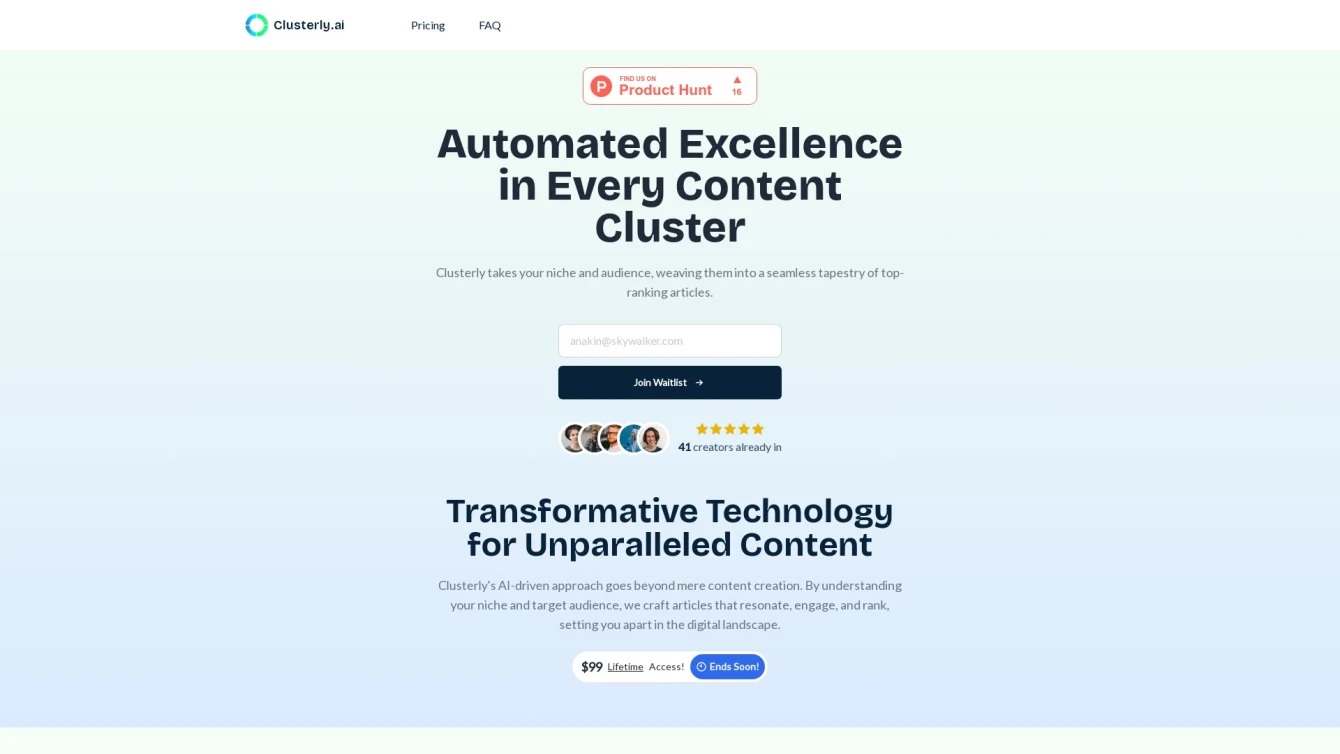 Clusterly.ai takes your niche and audience, weaving them into a seamless tapestry of top-ranking SEO articles.
Product information and features
Clusterly,ai is an innovative platform that excels in every aspect of content creation. Using their AI-driven approach, they seamlessly blend your niche and target audience to produce top-ranking articles that stand out in the digital landscape. They go beyond mere content creation by understanding your niche and audience, crafting articles that resonate, engage, and rank, setting you apart from the competition.

One of Clusterly's standout features is its ability to effortlessly harness the power of advanced SEO techniques. This ensures that your content always stands out in search results, driving more traffic to your website. Additionally, Clusterly.ai adapts your content to what's trending, allowing you to stay relevant and diversify for a comprehensive user experience.

Clusterly also offers seamless integration with WordPress and promises more CMS integrations in the future. This means that your content journey, from creation to publication, will be smooth and hassle-free. They also enhance user navigation and SEO with smart internal linking, guiding readers through a captivating journey on your site.

Not only does Clusterly excel in creating high-quality articles, but it also allows you to adjust the tone of your content to match your brand's voice and the preferences of your audience. This ensures that your content is authentic, engaging, and resonates with your target market.

Furthermore, this AI tool offers fast content delivery, whether you need a single article or bulk content, without compromising on the quality. They leverage AI to craft high-quality articles while also adding a human touch to ensure authenticity and engagement.

The tool goes above and beyond by covering all your content creation expenses. They understand the financial challenges of content creation and aim to provide a comprehensive solution that takes care of your budget.

In conclusion, Clusterly.ai is redefining content creation by offering a comprehensive automated solution. With their one-time payment option, you get unlimited access to all the features. So why wait? Experience the excellence of Clusterly and take your content creation to new heights.
Tell the world Clusterly.ai has been featured on NaNAI.tools:
Clusterly.ai Reviews
What's your experience with Clusterly.ai?
There are no reviews yet.
Related AI tools to Clusterly.ai