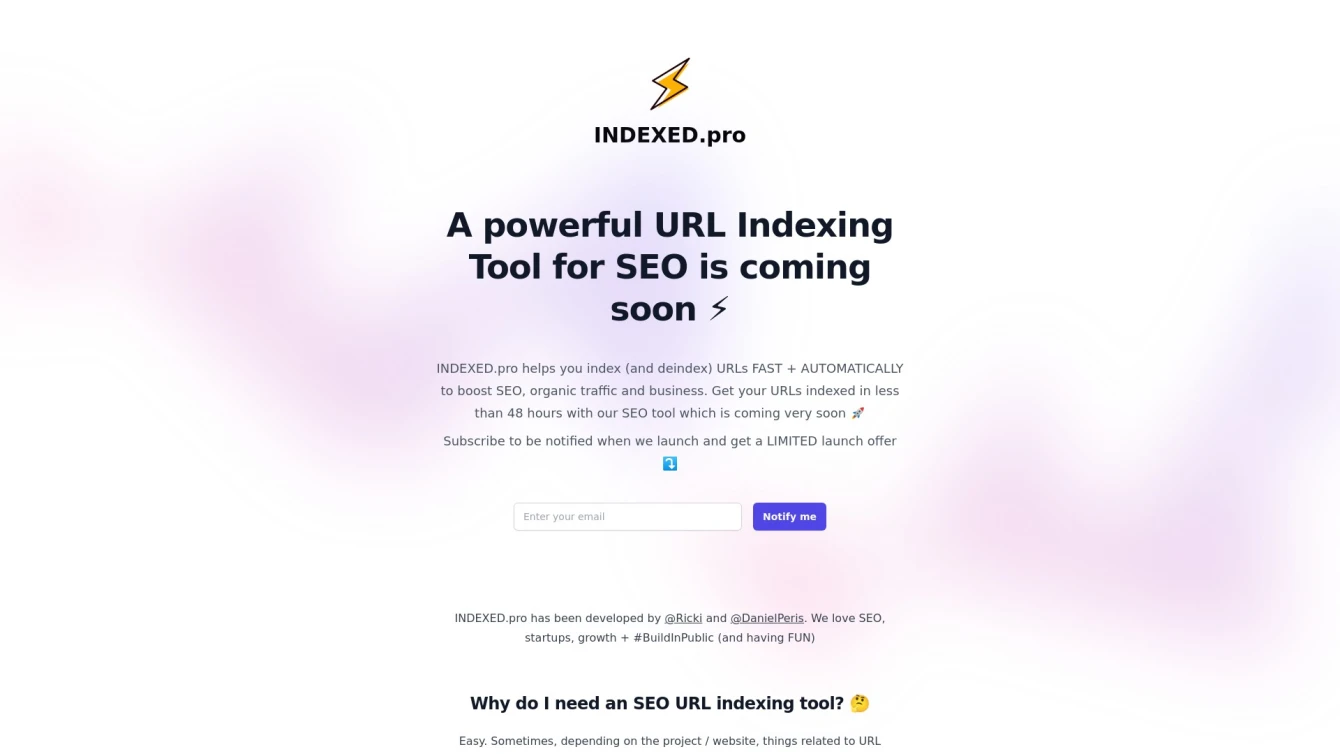 Get your website URLs indexed (or deindexed) in less than 48 hours with this SEO tool.
Product information and features
Introducing INDEXED.pro, the ultimate URL indexing tool for SEO enthusiasts! Are you tired of the headaches related to URL indexing and deindexing for your website? Well, fret no more because our powerful tool is here to save the day. With INDEXED.pro, you can effortlessly index and deindex URLs to boost your SEO, increase organic traffic, and ultimately grow your business. And the best part? It's fast and automatic!

Imagine having your URLs indexed in less than 48 hours. Yes, you read that right! Our SEO tool will work its magic and get your URLs indexed in no time. So, whether you're a startup, a growth-focused business, or simply someone who loves to #BuildInPublic, our tool is perfect for you. We've developed INDEXED.pro with love and passion for SEO, and we guarantee that it will make your life easier and more fun!

Why do you need an SEO URL indexing tool, you might ask? Well, depending on your project or website, dealing with URL indexing and deindexing can be a real headache. But fear not! INDEXED.pro is here to take all the stress away. Our tool automatically checks which URLs on your website are indexed and which ones are not. And if some pages are not indexed but should be, don't worry, we've got you covered. INDEXED.pro will work its magic and get those pages indexed at lightning speed, without you having to lift a finger.

We're not just one-trick ponies though. In addition to developing INDEXED.pro, we have also created, grown, and sold other amazing SaaS tools. So, if you have any questions or need assistance, feel free to reach out to us anytime. We're always here to help. Don't miss out on this game-changing SEO tool. Subscribe now to be notified when we launch and enjoy our limited launch offer. Get ready to take your SEO game to the next level with INDEXED.pro!
Tell the world INDEXED.pro has been featured on NaNAI.tools:
INDEXED.pro Reviews
What's your experience with INDEXED.pro?
There are no reviews yet.
Related AI tools to INDEXED.pro