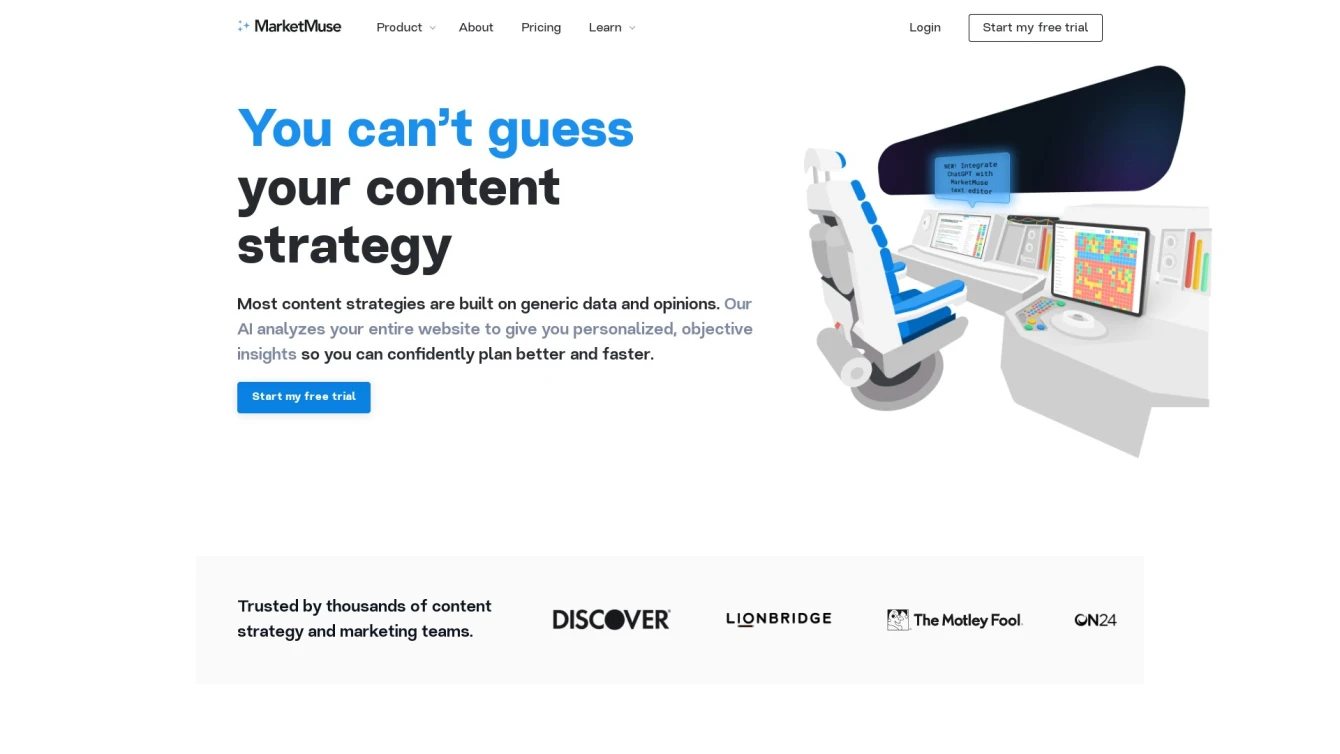 Streamlining content optimization through AI-driven insights.
Product information and features
Experience the power of AI with MarketMuse, a cutting-edge AI tool that streamlines content planning and optimization. The solution dives deep into your website's content, offering customized and objective insights that can revolutionize your content strategy.
With MarketMuse, you can automate your content audits, acquiring valuable page-level, site-level, and SERP insights. This enables you to plan more efficiently and make informed decisions faster. It's not just about planning, though. MarketMuse.com also uncovers potential gaps in the SERP, giving you the opportunity to tell a complete story, establish your authority, and truly own your topic.
MarketMuse offers guidance on keyword prioritization, content structuring, and even provides content blueprints. These features help minimize editing time and accelerate your publishing process. The AI tool eliminates guesswork, providing clear indicators of what's working, what's not, and what's missing. This enables you to focus on creating impactful content without wasting time on less profitable tasks.
Moreover, MarketMuse identifies and preserves at-risk content, bolstering your overall authority. With real-time quality feedback, it also dispels any writing fears, enabling you to produce high-quality content with confidence.
Put simply, MarketMuse is trusted by thousands of content strategy and marketing teams across the globe. With its data-driven optimizations and insights, users can see meaningful results and make confident decisions that drive success.
In summary, MarketMuse is a comprehensive AI tool that optimizes your content strategy. It offers content audits, keyword guidance, content structuring, and real-time feedback. Whether you're looking to own your topic, boost your authority, or simply publish faster, MarketMuse.com has you covered.
Tell the world MarketMuse has been featured on NaNAI.tools:
MarketMuse Reviews
What's your experience with MarketMuse?
There are no reviews yet.
Related AI tools to MarketMuse