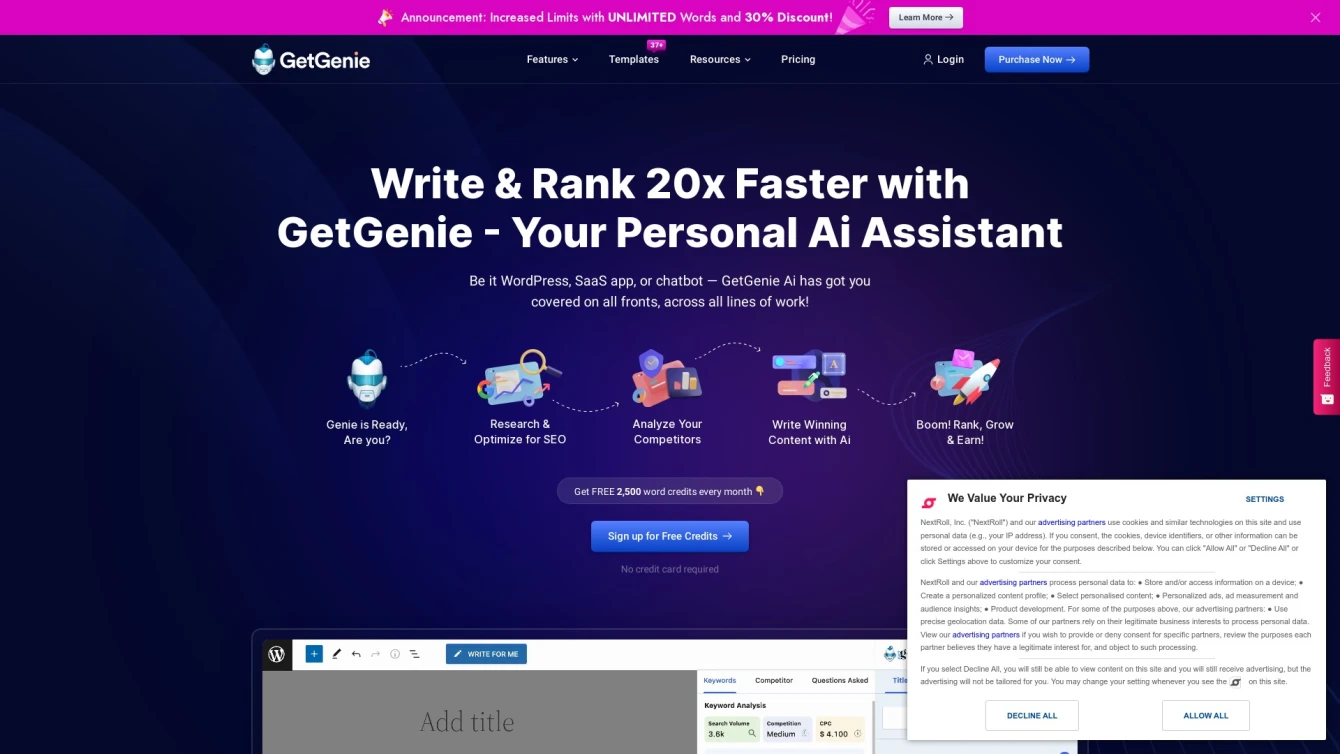 Your personal assistant for content creation and SEO optimization.
Product information and features
Introducing GetGenie, an AI tool that serves as your personal aide in various content and SEO-related tasks, for your website, blog or social media channels. GetGenie.ai is available as both a WordPress plugin and a SaaS solution, ensuring accessibility and convenience.
This AI tool encompasses a multitude of features, from a blog post generator wizard to a WooCommerce product description generator. It also includes a social media post generator and an ad copy generator, providing a comprehensive suite of tools for your content creation needs.
GetGenie offers advanced support for Elementor, allowing for the automatic filling of Elementor pages with high-quality content and copies produced by AI. This tool gives you the power to effortlessly create captivating content that resonates with your audience.
In addition to content creation tools, GetGenie also provides SEO features such as competitor analysis and content score analysis. These features empower you to identify content gaps, rise above your competitors in search result pages, and optimize your SEO efforts.
One of the unique features of GetGenie is GenieChat. This AI chatbot enables interaction with 22+ AI personalities with deep topical expertise, providing a human-like conversational experience. Plus, with support for 33+ languages, you can generate and optimize content in multiple languages, making it a global content creation solution.
GetGenie's AI-powered solutions include advanced features such as keyword analysis, competitor analysis, content score, and NLP-based suggestion keyword cluster. These features help you research and identify AI-filtered keywords, beat your SERP competitors, optimize content with a predictive AI score, and cover all relevant AI-filtered keywords of a topic with the NLP clustering technology.
In summary, GetGenie.ai is a comprehensive AI tool that offers a range of features to generate and optimize content, rank faster, and stay ahead of the competition. The tool provides advanced SEO solutions, content creation tools, language support, and an interactive AI chatbot, making it a versatile and powerful tool for any content creator or marketer.
Tell the world GetGenie has been featured on NaNAI.tools:
GetGenie Reviews
What's your experience with GetGenie?
There are no reviews yet.
Related AI tools to GetGenie