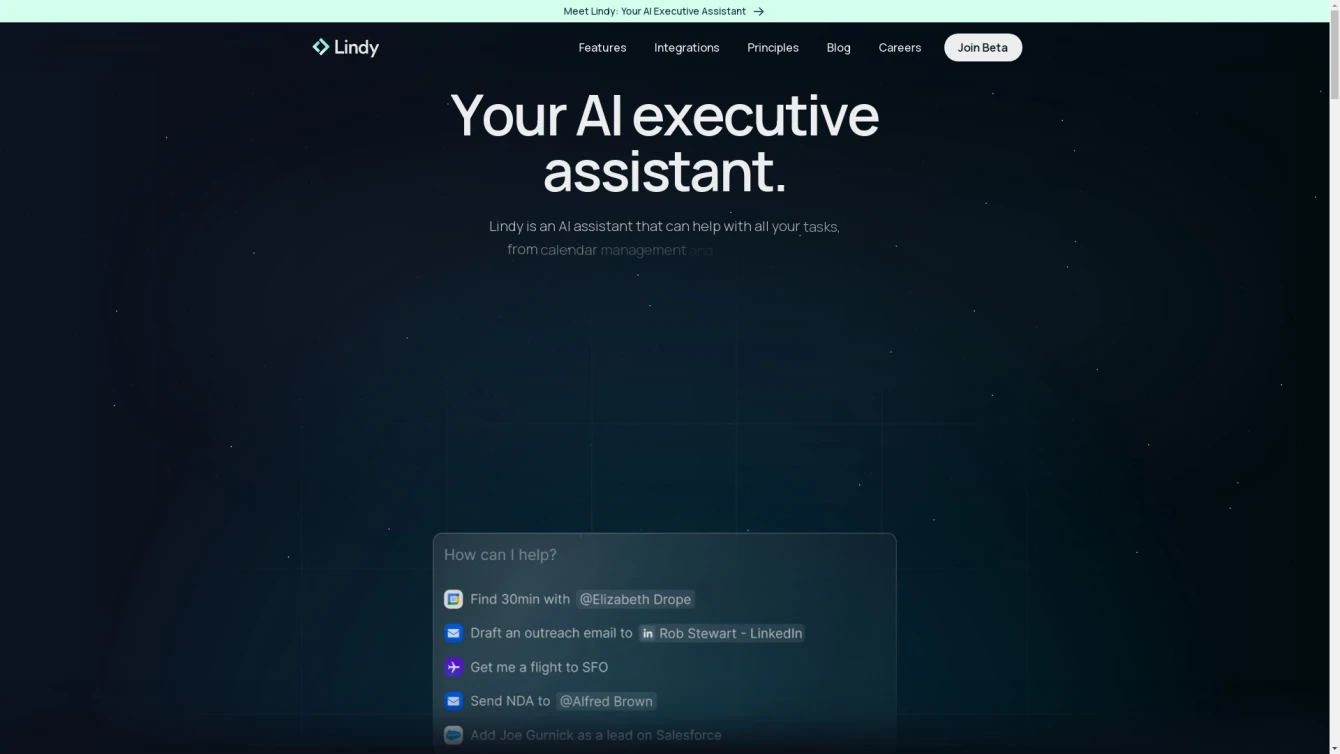 Streamlining tasks with personalized AI assistance.
Product information and features
Welcome to the world of Lindy, an AI tool that's been engineered to streamline your personal and professional responsibilities. This remarkable AI tool is packed with an array of features, such as calendar management, email generation, contract administration, and task planning, amongst others.
With Lindy.ai, you can access your assistant from any location, making the scheduling process effortless by managing the tedious back-and-forths to find common available slots. It's not just about scheduling, Lindy's prowess extends to drafting personalized emails, perfectly imitating your tone and style, making email management a breeze.
Lindy's AI technology is designed to learn from your inbox, prioritizing the most important emails, triaging them, and solving conflicts automatically. It goes a step further by attending meetings, summarizing various content like podcasts, YouTube videos, and web articles. It can also integrate with your favorite tools such as Linear, Gmail, Google Calendar, Twitter, Google Sheets, Salesforce, Twilio, Hubspot, Google Docs, Airtable, Google Drive, Slack, and LinkedIn, offering endless customization.
Whether you are in sales, recruitment, marketing, or any other field, Lindy is a versatile tool that can put your life on autopilot by taking over many of your routine tasks. It is designed to provide personalized assistance, freeing your time for higher-value tasks.
In summary, Lindy's AI tool is your own personal assistant that simplifies and streamlines tasks. It offers robust features like email drafting and task organization, integrates seamlessly with your preferred tools, and is capable of learning from your behavior to offer customized solutions. Regardless of your profession, Lindy can make your life easier, giving you back the time to focus on what truly matters.
Tell the world Lindy has been featured on NaNAI.tools:
Lindy Reviews
What's your experience with Lindy?
There are no reviews yet.
Related AI tools to Lindy