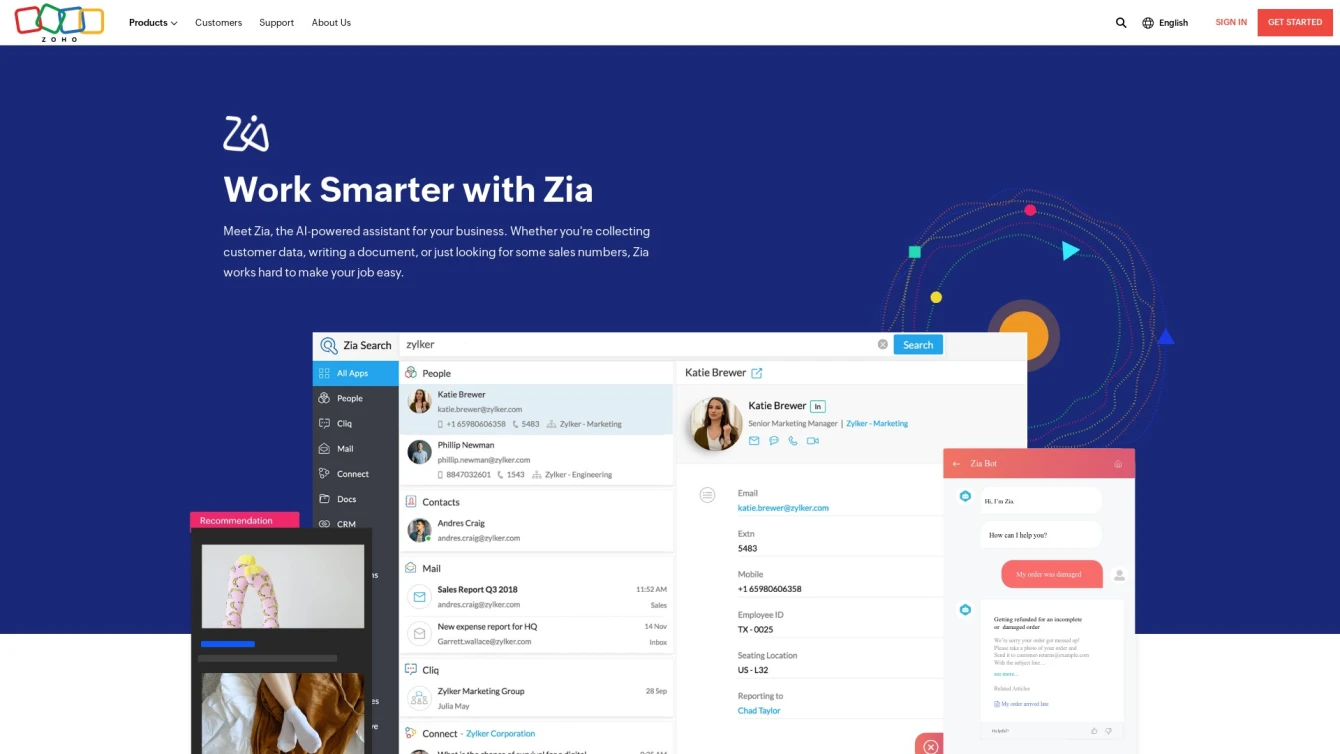 Elevating Business Productivity with AI-Driven Insights.
Product information and features
Transform your business operations with Zia by Zoho, an AI tool crafted to elevate your productivity. This tool ensures a comprehensive understanding of every business aspect, providing smart recommendations to boost your efficiency significantly.
Whether it's sales, marketing, customer service, finance, project management, collaboration, or even legal matters, Zia by Zoho is versatile enough to assist in all these domains. Its multifaceted nature makes it a powerful assistant for every business professional, offering custom solutions and business intelligence and analytics.
Showcased prominently on zoho.com/zia, Zia stands out as the only AI tool that fully comprehends every business aspect, making it an invaluable asset in your toolset. Alongside Zia, Zoho also provides a range of other products and solutions, each catering to specific business needs, including CRM, marketing, sales, event management, finance, HR, collaboration, and custom apps.
Zoho also features an expansive marketplace offering extensions, custom apps, and industry solutions, all designed to seamlessly integrate with third-party applications. With Zoho's vast experience in creating business solutions, Zia is positioned to be a reliable and efficient tool for businesses seeking an AI assistant.
In summary, Zia by Zoho is a comprehensive AI tool designed to enhance various aspects of your business. Its main features include providing smart recommendations based on business analytics, offering custom solutions, and integrating with third-party applications. Its use cases span across all business domains, making it an indispensable tool to help users boost their productivity and efficiency.
Tell the world Zia by Zoho has been featured on NaNAI.tools:
Zia by Zoho Reviews
What's your experience with Zia by Zoho?
There are no reviews yet.
Related AI tools to Zia by Zoho