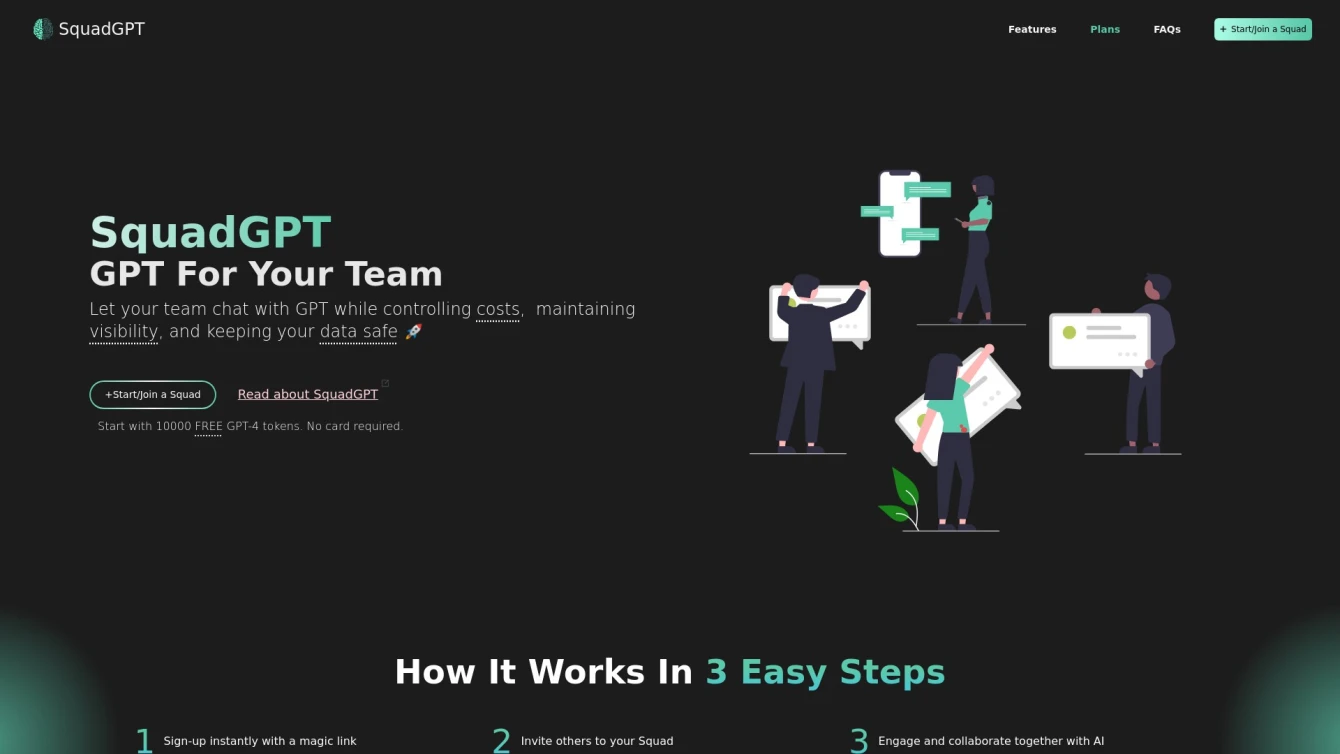 Unleashing the Power of AI in Team Collaboration and Cost Control.
Product information and features
Welcome to the future of teamwork with SquadGPT - a revolutionary AI tool that facilitates collaborative experiences with OpenAI's GPT language models. It serves as a versatile platform for various collaborative activities, including brainstorming sessions, group studies, gaming, employee onboarding, and even hiring processes.
What sets SquadGPT.ai apart from other AI tools is its unique cost control feature. Unlike some solutions where costs escalate with team size, SquadGPT takes a different approach. It gives you the power to integrate AI into your team structure, while also offering the functionality to monitor and manage AI-related expenses. This crucial feature provides you with a clear perspective on your AI expenditure, helping you gauge the value AI brings to your business.
With SquadGPT, data privacy and safety are never compromised. The AI conversations are processed through OpenAI's GPT models using their own API. This ensures stringent adherence to OpenAI's privacy policies, confirming that your data submitted via the API is not accessed. Future updates of SquadGPT aim at amplifying this control over data access by enabling users to set rules for the backend AI models.
While SquadGPT provides access to the AI's standard 'System' messages, the current scope for customization of AI behavior and preferences is limited. However, efforts are underway to expand and refine the access to AI-bound messages and to widen the range of AI models available for various tasks.
In summary, SquadGPT serves as a comprehensive AI tool for enterprises, offering a user-friendly interface that combines the power of AI with teamwork. It maintains a balance between cost control, visibility, and data safety, making it an ideal choice for a variety of collaborative endeavors.
Tell the world SquadGPT has been featured on NaNAI.tools:
SquadGPT Reviews
What's your experience with SquadGPT?
There are no reviews yet.
Related AI tools to SquadGPT