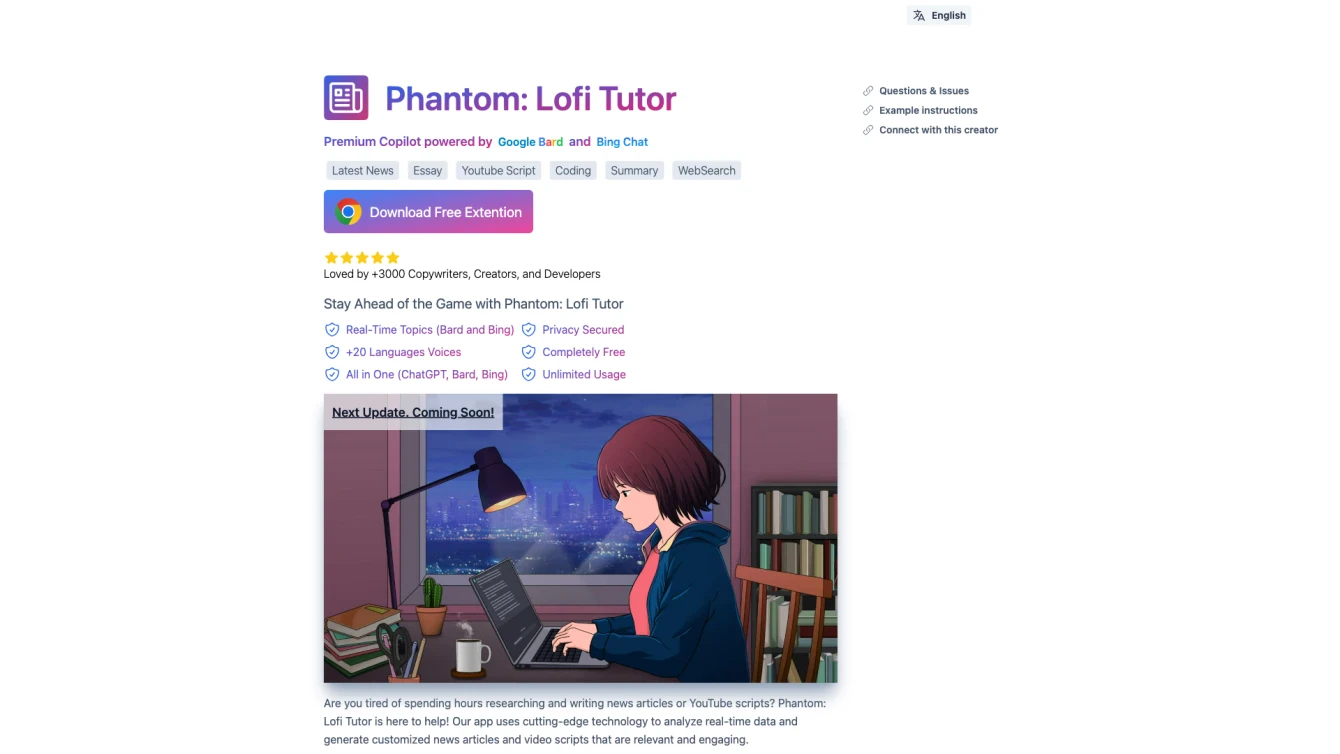 Revolutionizing searches and content creation with real-time data.
Product information and features
Experience the power of advanced search capabilities with ChatGPT Phantom, a free Chrome extension. This AI tool uses real-time YouTube data to redefine your search experience, moving beyond traditional search engines like Google search, Google Bard, and Bing.
ChatGPT Phantom provides a real-time search experience, utilizing AI algorithms for the most efficient and effective searches. The tool gathers the freshest news on a myriad of topics, from politics and sports to entertainment, giving you the most up-to-date information at your fingertips. It uses natural language generation to turn this data into articles that are not just informative but also engaging and easy to read.
For content creators, it offers a unique twist. With this AI tool, users can generate gripping YouTube video scripts that set them apart from the crowd. The tool provides script templates for various video formats, including tutorials, product demonstrations, and vlogs. All you need to do is enter your chosen topic, and the tool generates the script.
ChatGPT Phantom operates free of ads, analytics, and trackers. It respects your privacy by not gathering personal information. The only data shared with the AI model is the prompts and context you provide for generating a response.
In summary, ChatGPT Phantom is a versatile AI tool that caters to the needs of content creators, copywriters, and developers. It offers a comprehensive search experience and generates customized content. Its use of natural language generation makes the resulting articles and scripts easy to read and informative. Efficient, effective, and entirely free, it's a tool that truly reshapes the way you search and create content.
Tell the world Phantom has been featured on NaNAI.tools:
Phantom Reviews
What's your experience with Phantom?
There are no reviews yet.
Related AI tools to Phantom