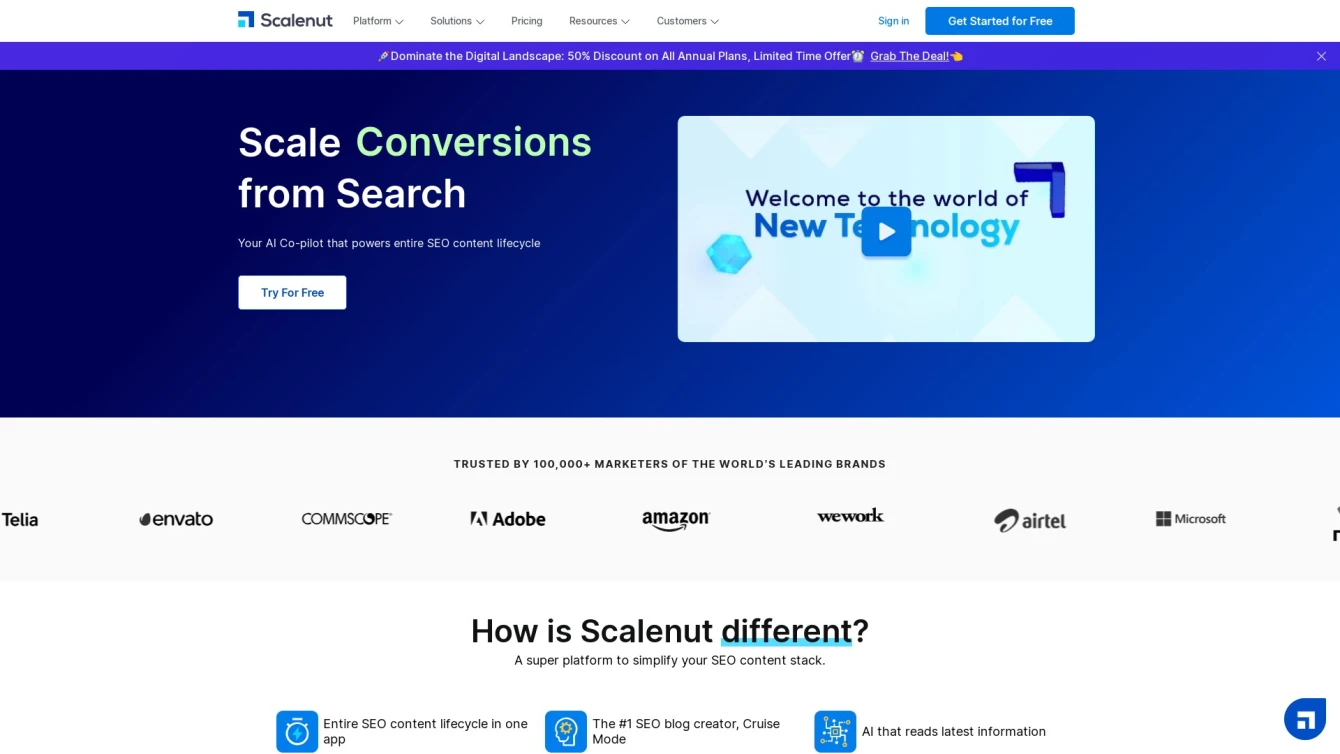 Streamlining SEO and content marketing with AI-driven solutions.
Product information and features
Discover Scalenut, an AI tool that revolutionizes SEO and content marketing operations. It's designed to streamline your content lifecycle, from planning and research, all the way through creation and optimization. At scalenut.com, you can take advantage of diverse features and integrations that simplify and enhance your content management process.
Build content clusters with Scalenut to establish authority within your chosen niche. You can also generate keyword plans to boost visibility. To uplift your blog's organic traffic, take advantage of AI-recommended blog ideas and strategies. The tool also supports competition analysis, NLP key term analysis, and provides valuable statistics to guide your content strategy.
One unique aspect of Scalenut is the AI copywriting feature - Cruise Mode. This allows you to produce persuasive, SEO-driven content on a large scale. The platform ensures that your content is ready-to-rank, factually accurate, and free of plagiarism. Additionally, you can optimize and update your existing content using NLP key terms. Real-time SEO scoring is another helpful feature to track your progress.
Scalenut provides more than 40 AI copywriting templates, designed to help you craft marketing copy that effectively drives conversions. It's a versatile tool that can benefit SEO strategists, content creators, executives, and agencies across various sectors including retail, technology, healthcare, travel, hospitality, and finance.
Scalenut has earned positive feedback and multiple accolades for its impactful AI functionality and its proven track record of boosting organic traffic. To further support users, it offers free tools, seamless integrations with popular marketing apps, and a comprehensive knowledge base that includes blogs, ebooks, and help documentation.
In summary, Scalenut is a comprehensive AI tool for SEO and content marketing. It offers an array of features including content planning, AI-driven recommendations, competition analysis, and AI copywriting capability. It caters to a variety of users and industries, providing a robust solution to streamline your content lifecycle and optimize your marketing efforts.
Tell the world Scalenut has been featured on NaNAI.tools:
Scalenut Reviews
What's your experience with Scalenut?
There are no reviews yet.
Related AI tools to Scalenut