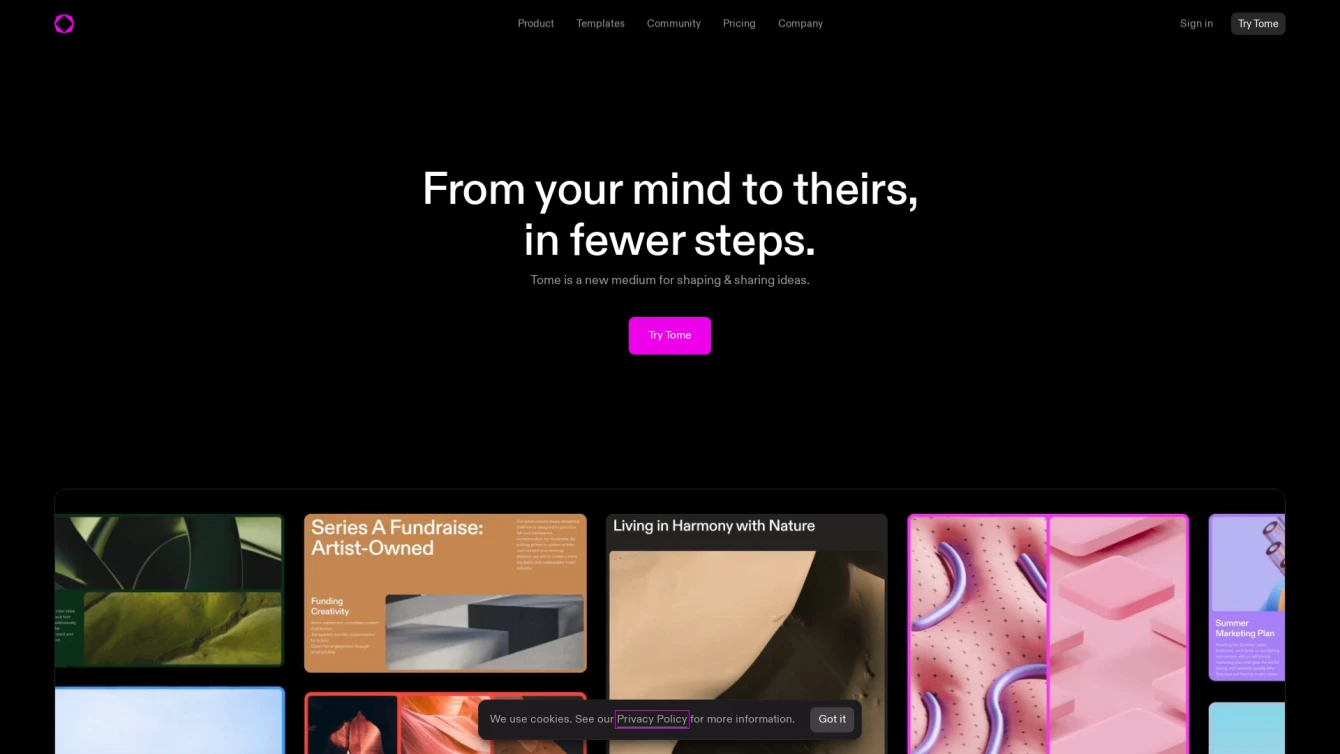 Transforming storytelling with AI-powered creativity and interactive design.
Product information and features
Tome is an AI tool that revolutionizes the way you create and share captivating narratives. This online tool, made available at tome.com, combines an interactive canvas with an AI-powered storyteller that assists you in crafting compelling presentations, outlines, or stories with just a single click. It doesn't just stop at text, but also incorporates captivating images to make your stories truly immersive.
Got static content like strategic documents, creative briefs, or websites that need a refresh? Transform them into a dynamic Tome, or use the tool's summarizing function to extract key details from long-format content. The platform's AI capabilities help you iterate your work, ensuring that your stories are delivered in the style and tone that best represents you.
One of the major perks of using Tome is its seamless compatibility across multiple devices. Thanks to responsive layouts that adjust to any screen size, you can create and share content that offers an immersive, full-screen experience. Moreover, you can embed interactive elements like product mocks, 3D prototypes, data, web pages, and more, straight into your Tome.
Want to track engagement with your content? Tome also offers analytic tracking to give you insights into your audience. Catering to a broad spectrum of users, from teachers and executives to creatives and personal users, Tome's versatility is its strength. It even offers pre-designed templates to jumpstart your storytelling journey, praised by many, including notable figures like Reid Hoffman from Greylock Partners and Larry Lundstrom from SpaceX.
In summary, Tome is a powerful AI tool that transforms the way you create and share narratives. It's perfect for a range of uses, from business presentations and strategic outlines to creative storytelling. By offering interactive elements, responsive layouts, and AI capabilities, Tome empowers you to communicate your ideas effectively and engagingly.
Tell the world Tome has been featured on NaNAI.tools:
Tome Reviews
What's your experience with Tome?
There are no reviews yet.