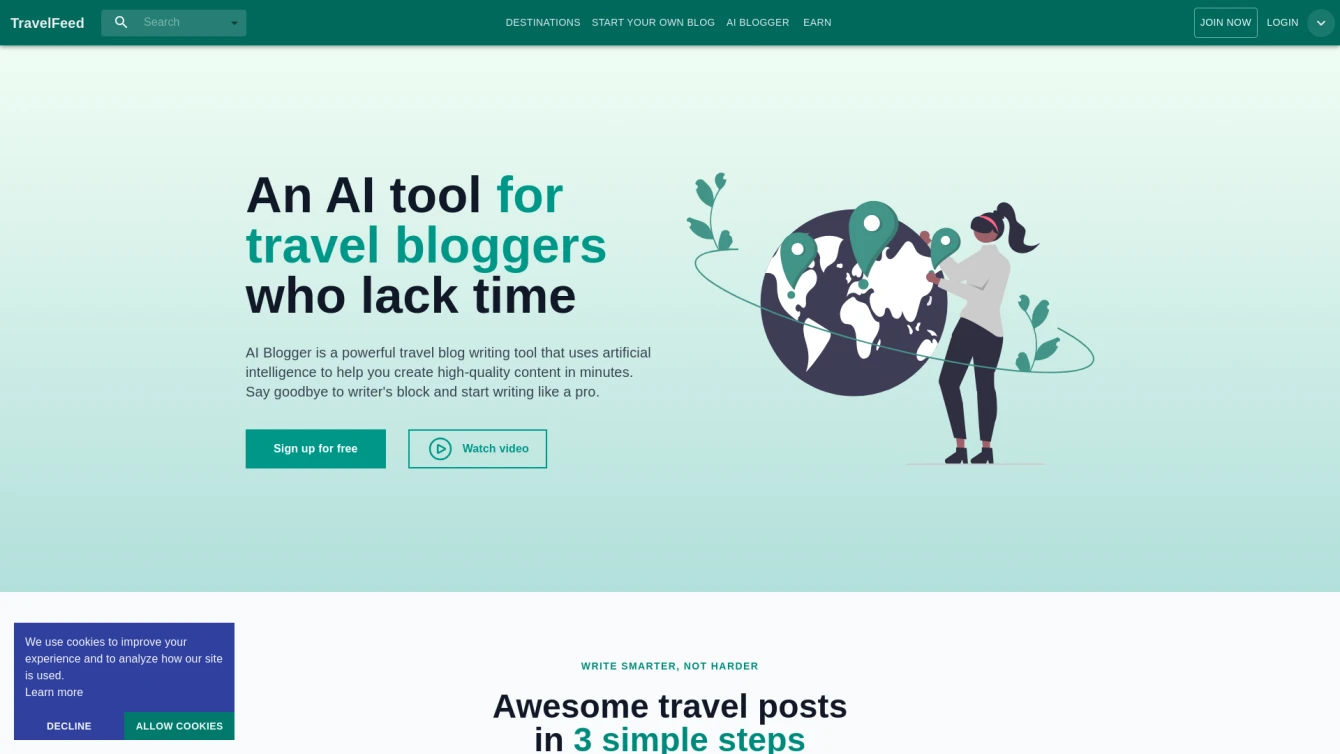 Crafting high-quality travel blogs with AI-powered efficiency.
Product information and features
Unlock the power of artificial intelligence with the TravelFeed AI tool, crafted specifically for busy travel bloggers seeking high-quality content creation. This tool leverages AI to help you generate professional and compelling travel blog content in a fraction of the time.
Enter your travel notes, destination specifics, and target audience details into the AI tool to generate a blog post draft. From there, you can fine-tune the content to ensure it aligns with your unique travel experiences and personal voice.
TravelFeed.io offers smart writing features to enhance your content quality. It crafts engaging and unique titles for your blog posts, which in turn drives traffic and captures your readers' attention. With the help of the AI tool, your writing style gets upgraded through TravelFeed's EasyEditor, a feature that uses AI to refine your content paragraph by paragraph.
Not only does this AI tool help with content creation, but it also optimizes your blog posts for SEO and engagement, making it a valuable asset for any travel blogger. The time-saving benefits of this AI tool are significant, letting you produce exceptional travel blog posts in a reduced timeframe.
Over 4,000 top-tier travel bloggers rely on TravelFeed's AI Travel Blogging Assistant for its efficiency and user-friendly interface. To conclude, this AI tool is your ticket to elevated travel blogging, enabling you to create engaging content, optimize your posts, and take your travel blog to the next level.
Tell the world TravelFeed has been featured on NaNAI.tools:
TravelFeed Reviews
What's your experience with TravelFeed?
There are no reviews yet.
Related AI tools to TravelFeed