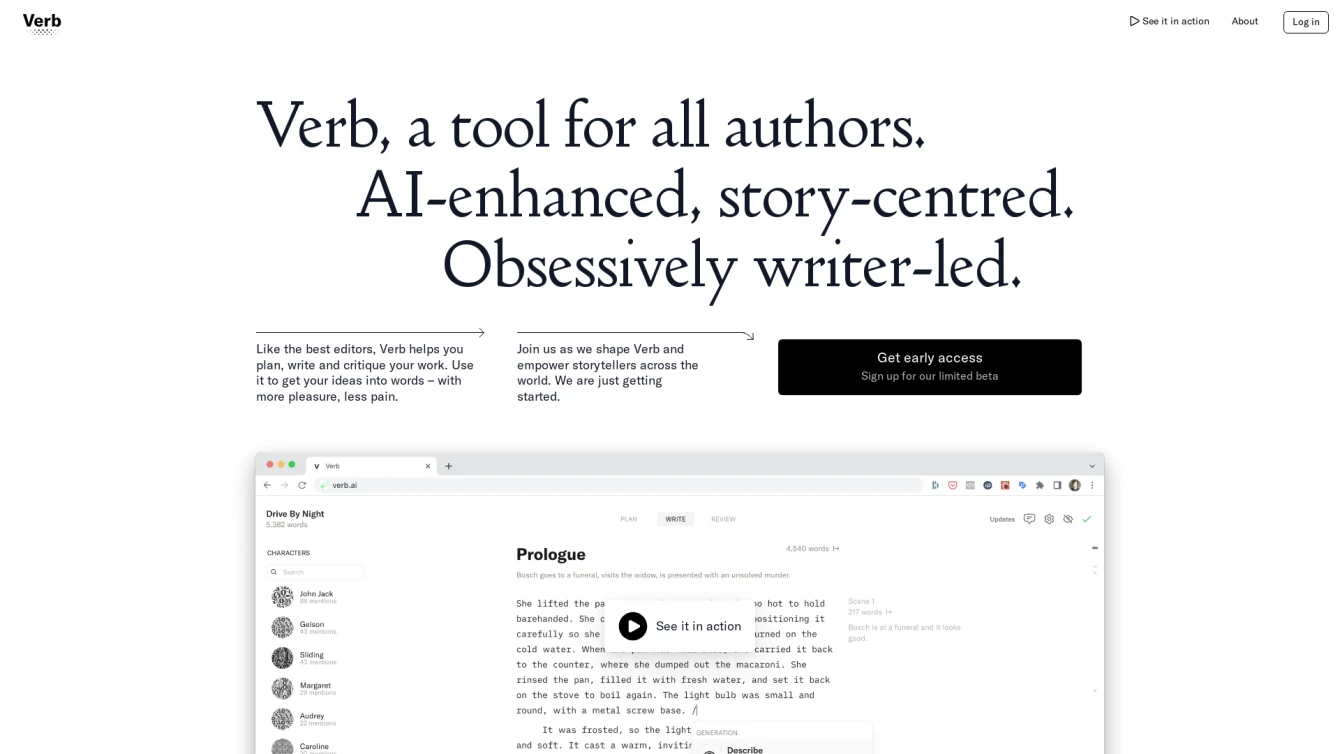 Revolutionizing the writing experience with AI.
Product information and features
Introducing Verb, a novel AI tool that revolutionizes the writing experience. This innovative tool is designed to cater to the unique requirements of writers, transforming the writing process from a daunting task into an enjoyable one.
Verb.ai provides a comprehensive suite of resources to assist you in planning, crafting, and reviewing your literary works. It serves as a platform where your ideas seamlessly transition into engaging narratives. The platform is driven by an established community of top-notch editors who are committed to assisting you in creating high-quality stories.
Verb.ai takes pride in its dynamic nature, which allows it to adapt and improve continuously. Its evolution is shaped by a global community of storytellers who contribute their insights and experience, making the tool even more efficient and reliable.
To ensure smooth communication and engagement with users, Verb.ai integrates with popular platforms like Twitter, Reddit, and Facebook. This feature allows users to stay connected, share their experiences, and learn from others in the community.
Lastly, Verb.ai offers a limited beta version for early access. It also has a dedicated Discord community that users can join to connect with other writers, share ideas, and provide feedback.
Overall, Verb.ai is an AI tool that provides a holistic writing solution, from planning to critiquing. It provides a tailored interactive writing experience, a network of proficient editors, and the opportunity to shape the tool's evolution. Join a community of users shaping the future of writing, and discover how Verb.ai can assist you in crafting your narrative.
Tell the world Verb has been featured on NaNAI.tools:
Verb Reviews
What's your experience with Verb?
There are no reviews yet.