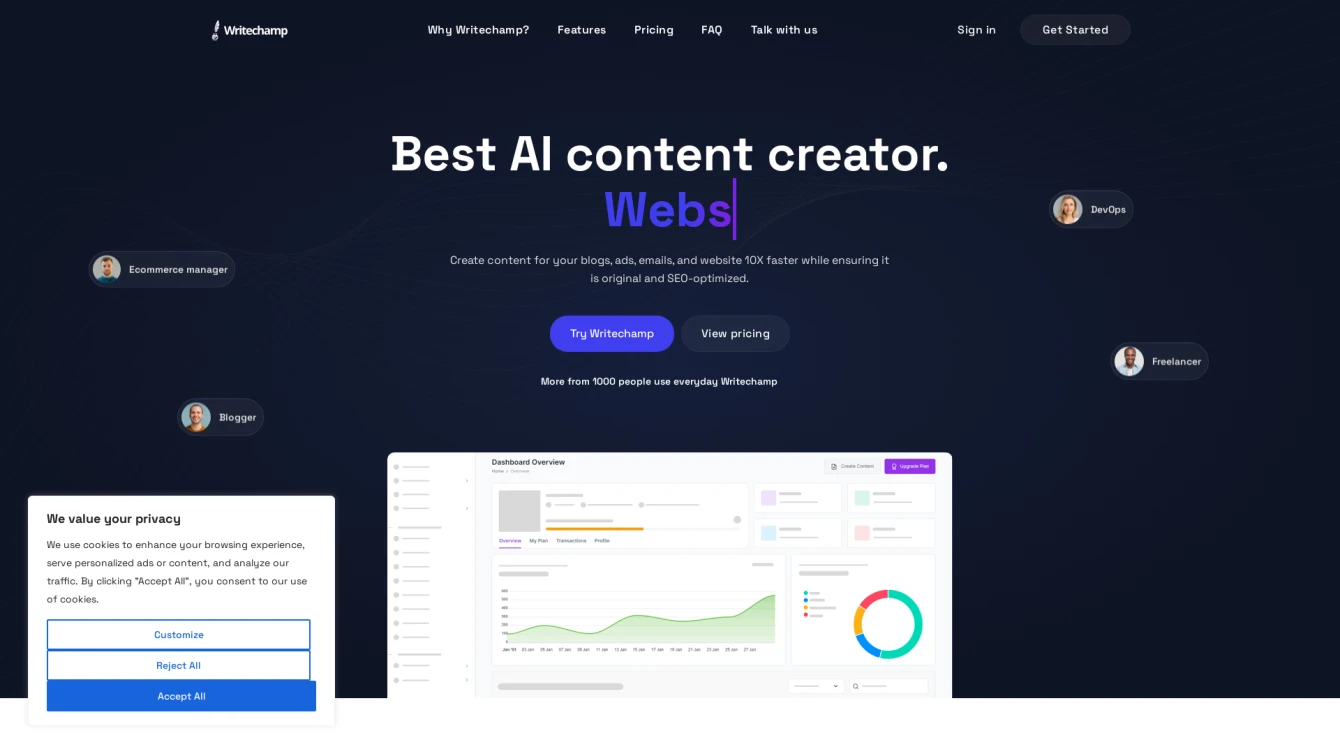 Revolutionizing content creation with artificial intelligence.
Product information and features
Experience a revolution in content creation with Writechamp, an AI tool that empowers you to generate engaging, SEO-optimized content for a variety of platforms. From blog posts to emails, from ad copy to website content, Writechamp is your go-to solution for all things content-related. All you need to do is provide a brief description of your subject, specify your preferred keyword, and let the tool do its magic.
Writechamp's robust feature set includes an AI writer, a paraphrasing tool, and versatile copywriting tools, all designed to deliver content that is both unique and SEO-friendly. With Writechamp, you can effortlessly craft compelling copy that resonates with your audience and drives conversions.
But that's not all. Writechamp also comes with a suite of editing tools to refine your content before you hit publish. With single-click publishing options for platforms like WordPress and Shopify, distributing your content has never been easier. Writechamp even caters to the specific needs of eCommerce and digital ad copywriting, helping you optimize your website's Google ranking and boost sales.
Writechamp offers flexible pricing plans and a free trial that includes 1,000 words, allowing you to test the platform without any commitments. At Writechamp, you always retain ownership of your created content, giving you peace of mind and full control over your work. Whether you're a blogger, an eCommerce manager, a DevOps professional, or a freelancer, Writechamp is the content creation tool you've been looking for.
In summary, Writechamp is a versatile AI tool designed to streamline your content creation process. Its wide array of features, including AI writing, paraphrasing, and copywriting tools, along with editing and single-click publishing options, make it an invaluable asset for anyone involved in producing content. With Writechamp, producing high-quality, SEO-optimized content is as simple as a few clicks.
Tell the world Writechamp has been featured on NaNAI.tools:
Writechamp Reviews
What's your experience with Writechamp?
There are no reviews yet.
Related AI tools to Writechamp