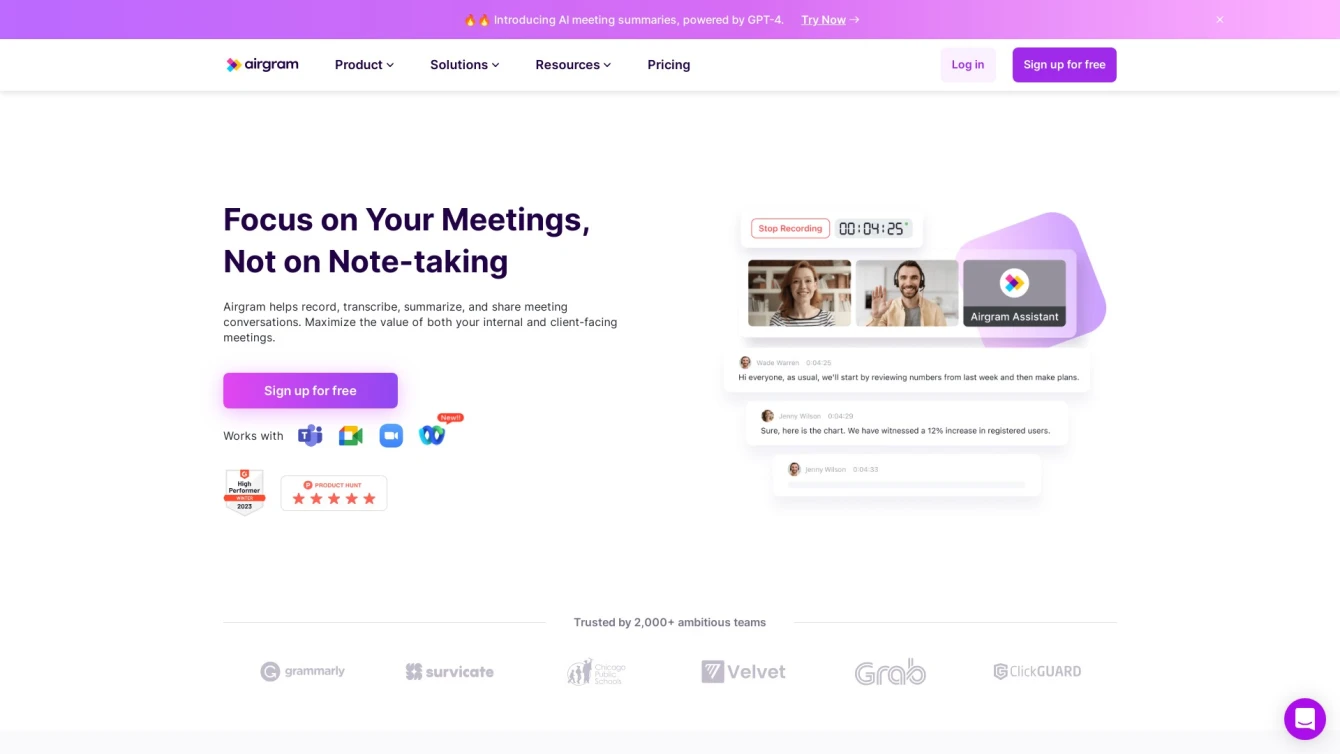 Streamlining meeting workflows with AI-powered efficiency.
Product information and features
Unveiling Airgram, an AI tool designed to optimize your meeting workflows. This assistant offers a suite of functionalities that allows for smoother internal and client discussions. With its capability to automate recording and transcribing meetings, generate meeting notes, assign actionable tasks, and craft meeting agendas, Airgram proves to be an indispensable asset for efficient collaboration.
Recognizing the popularity of video conferencing platforms such as Zoom, Google Meet, and Microsoft Teams, the AI tool ensures seamless compatibility with these services. This synchronization opens up a wealth of possibilities for teams to work together more effectively, propelling actions and decisions forward.
Airgram encourages teams to create and distribute meeting agendas collaboratively beforehand. This practice ensures everyone is aligned and prepared for the discussions at hand. During the meeting, team members can utilize Airgram's integrated rich-text editor to jot down notes, add text, bullet lists, images, and more, all with a simple slash (/) command.
As the meeting concludes, teams can utilize Airgram to designate action items with corresponding due dates, fostering accountability and ensuring that decisions translate into actions. The AI tool also records and transcribes meetings, supporting high-quality audio and video in eight languages, including English, German, French, Spanish, Portuguese, Russian, Japanese, and Chinese.
Moreover, Airgram's AI-based topic feature extracts crucial information such as price, person, location, and time for a quick meeting takeaway. It also permits users to clip and share snippets of recordings, export notes and transcripts to other platforms, and search across the meeting transcript for a particular keyword or phrase. Airgram's commitment to security is evident in its SOC 2 certification, and its effectiveness is recognized by G2, TechCrunch, and Product Hunt.
In conclusion, Airgram is a comprehensive AI tool that streamlines meeting workflows, promotes effective collaboration, and ensures that decisions are promptly executed. Its compatibility with popular video conferencing platforms, AI-based topic extraction, and secure certification make it an invaluable tool for any team.
Tell the world Airgram has been featured on NaNAI.tools:
Airgram Reviews
What's your experience with Airgram?
There are no reviews yet.
Related AI tools to Airgram