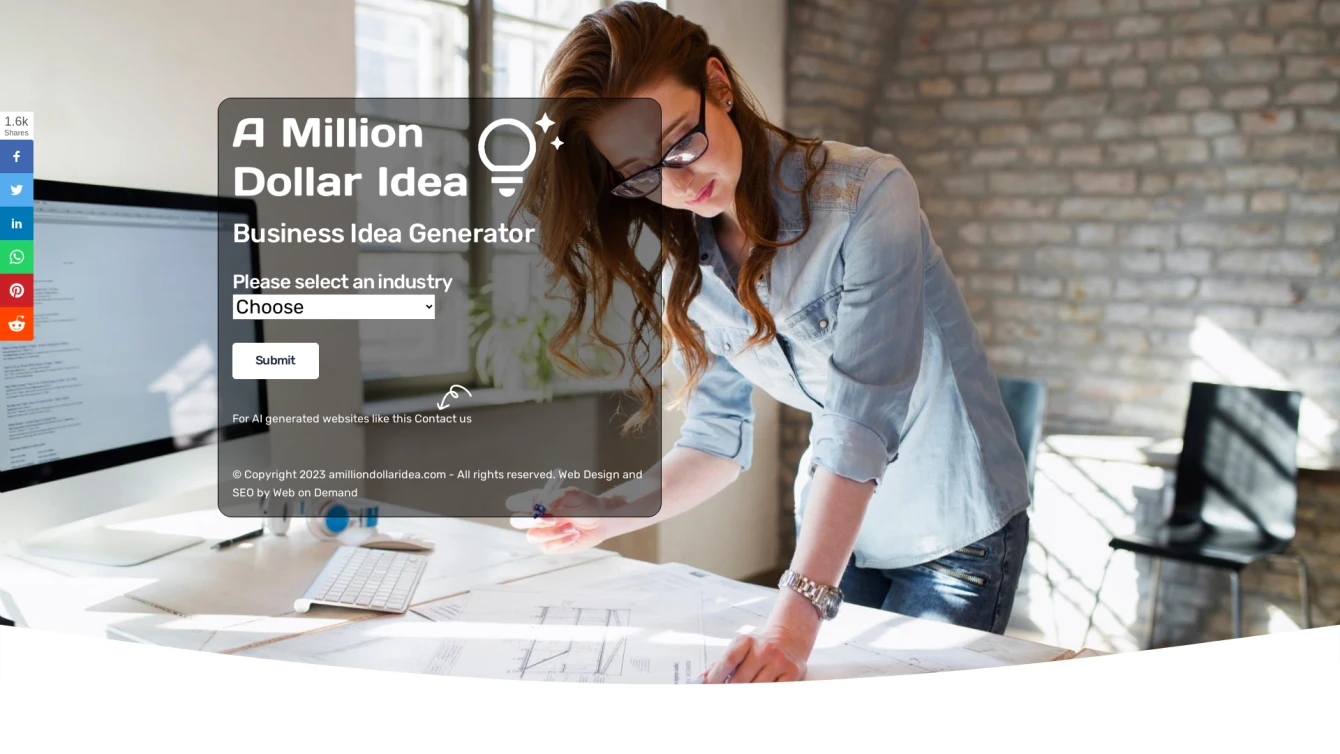 Innovating business concepts with AI-technology.
Product information and features
Introducing A Million Dollar Idea, an AI tool catering to the needs of entrepreneurs and business owners seeking innovative concepts that can transform their businesses. With a few simple clicks, you can tap into a vast array of industry categories like accounting, advertising, agriculture, architecture, and beyond.
Amilliondollaridea.com allows you to make a selection from the diverse industry options and then uses its AI prowess to generate a unique business idea tailored to your chosen domain. The process is straightforward and efficient, providing a valuable resource for those seeking to infuse novelty into their business endeavors.
Furthermore, A Million Dollar Idea offers a contact page, opening up opportunities for visitors to propose new industries to be added to the selection pool. This feature facilitates a collaborative environment where everyone can contribute to the growth and diversification of the available options.
The platform also integrates social media sharing buttons, making it easy for users to share the innovative tool with their networks. This feature fosters a community of like-minded entrepreneurs who can learn from and inspire each other.
To summarize, A Million Dollar Idea is an ingenious AI tool designed to stimulate business innovation. It offers a diverse choice of industry categories, generates unique ideas through AI technology, and fosters community through its social media sharing features. Whether you're stuck in a creative rut or looking to venture into a new business domain, this tool is a valuable resource that can help catalyze your entrepreneurial journey.
Tell the world A Million Dollar Idea has been featured on NaNAI.tools:
A Million Dollar Idea Reviews
What's your experience with A Million Dollar Idea?
There are no reviews yet.
Related AI tools to A Million Dollar Idea