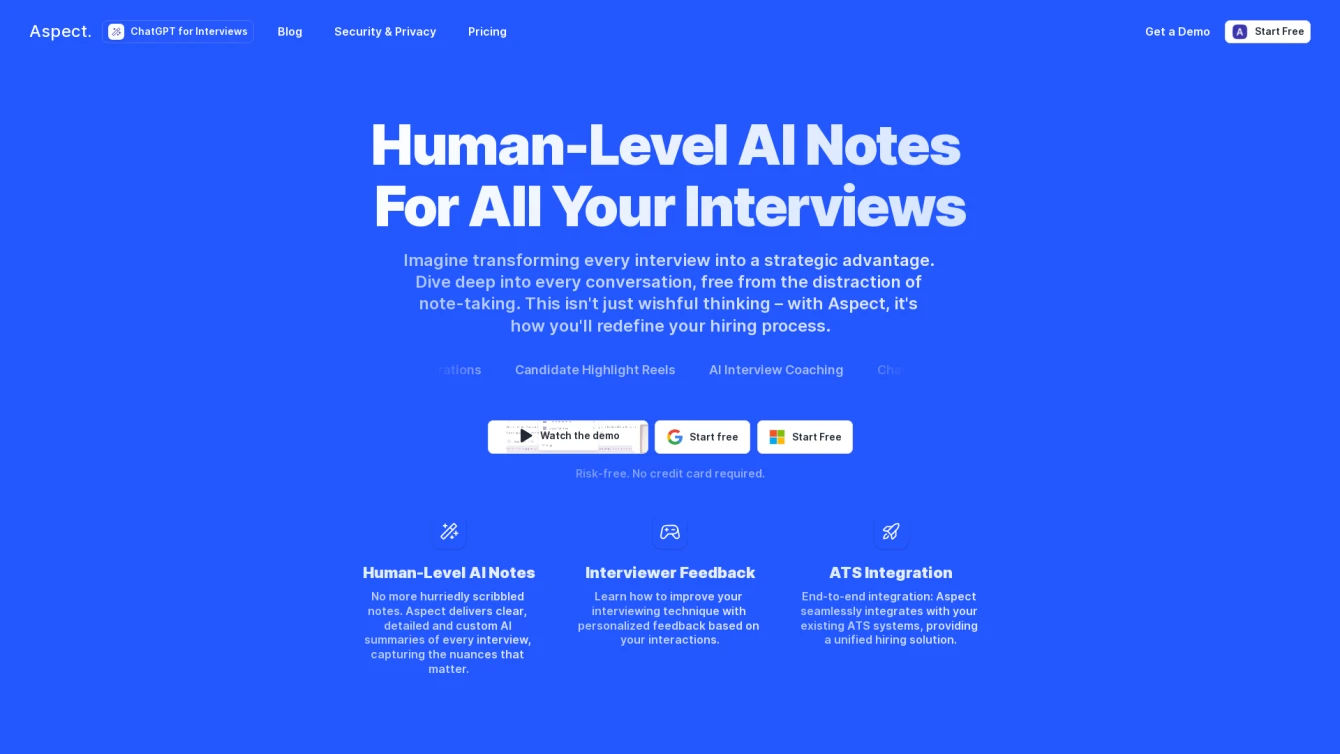 Revolutionizing recruitment with AI-driven notes and personalized coaching.
Product information and features
Stepping into the future of recruitment, Aspect is a cutting-edge AI tool tailored to revolutionize the process of hiring. Its unique feature of AI-generated notes empowers recruiters and hiring managers to focus entirely on the candidate during interviews, thereby eliminating distractions associated with note-taking.
Aspect.AI ensures delivery of custom and detailed notes, capturing significant nuances without the need for hastily written down information. Moreover, the platform also features personalized interviewer feedback, offering users tailored coaching based on their interactions.
Aspect.AI is designed to seamlessly merge with existing Applicant Tracking Systems (ATS), offering a unified solution for hiring. It provides end-to-end integration and insightful analytics, granting recruiters and teams visibility over stats.
The advantages of using Aspect are manifold, ranging from enhancing productivity and efficiency of recruiters with the help of clear AI-generated interview summaries, to aiding in quick and informed decision-making for teams and clients. It also enhances interviewing techniques with personalized feedback.
Aspect is a versatile tool suitable for anyone in the recruitment industry. It simplifies the hiring process by recording and transcribing meetings on platforms such as Zoom, Google Meet, and MS Teams, and synchronizing all interview data with a single click. Moreover, Aspect is multilingual, supporting over 30 languages, thus broadening its reach.
In summary, Aspect is a comprehensive AI tool that significantly improves the quality of interviews and streamlines the hiring process. It encourages better collaboration among teams, aids in faster decision-making, and offers personalized coaching for interviewers. By serving as a reliable ally in the hiring process, Aspect truly transforms the recruitment landscape.
Tell the world Aspect has been featured on NaNAI.tools:
Aspect Reviews
What's your experience with Aspect?
There are no reviews yet.
Related AI tools to Aspect