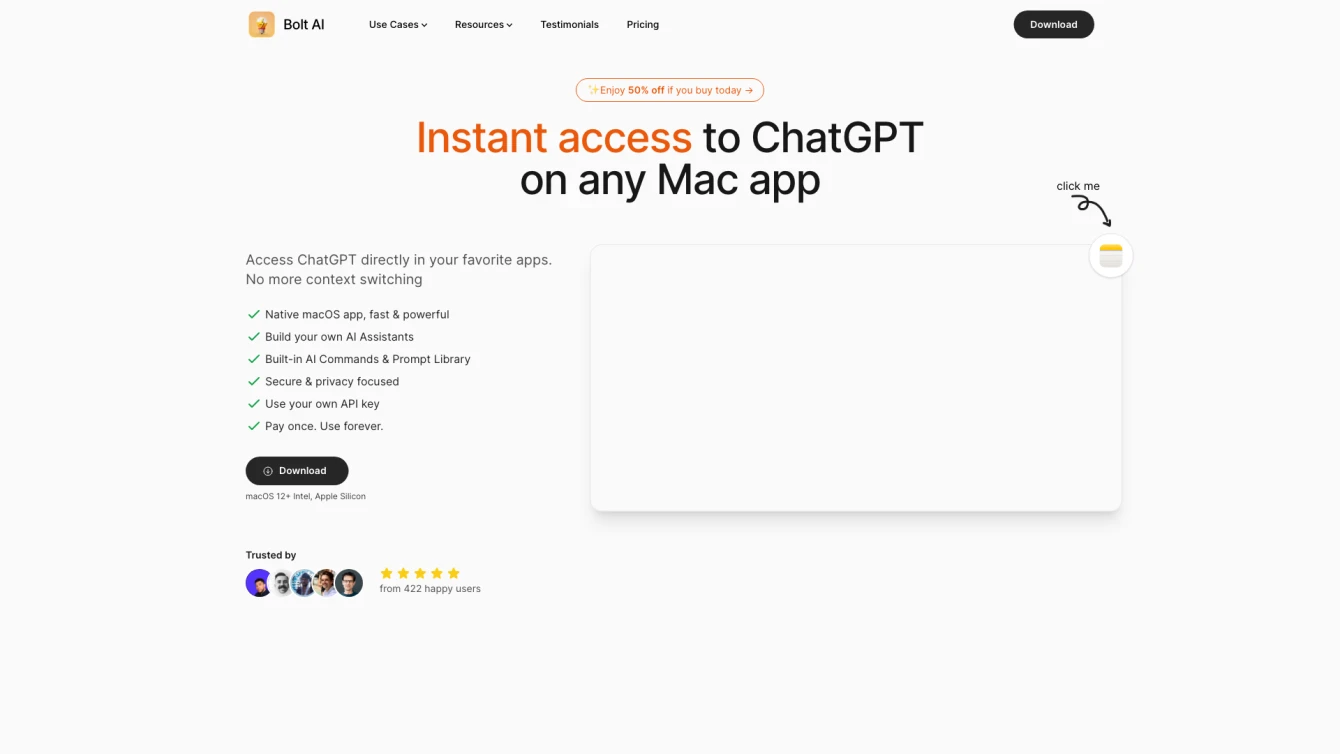 Unleashing AI assistance for enhanced productivity across professions.
Product information and features
Unleash the power of AI assistance in your daily tasks with BoltAI. This AI tool is a native macOS ChatGPT client designed to streamline your operations, whether you're a marketer, developer, student, or entrepreneur. It taps into the capabilities of OpenAI's GPT, providing AI suggestions as you work on various tasks such as writing emails, coding, creating reports, or generating fresh ideas.
From developers and content creators to students and professionals across different sectors, BoltAI serves an array of users looking to optimize their efficiency with AI assistance. The tool is highly customizable, enabling users to design their custom AI assistants. This feature allows for the AI's behavior to be tailored to suit specific tasks or roles, effectively personalizing your AI experience.
BoltAI doesn't stop at customization; it also features a prompt library. This library allows users to maximize their AI assistance, offering a range of prompts to enhance their AI experience. Additionally, BoltAI, as a native macOS app, outshines many Electron-based apps. It's fast, powerful, and offers a full chat experience.
Security and privacy are at the heart of BoltAI. It stores the key securely in the Apple Keychain and automatically redacts sensitive data. This feature ensures user privacy and peace of mind, making it a reliable tool for your AI needs. BoltAI also offers a variety of pricing plans, with the option to purchase a one-time license that includes one year of free updates.
In summary, BoltAI is a robust AI tool that enhances your productivity by providing AI suggestions for a variety of tasks. Its customization features, prompt library, and strong focus on security and privacy make it a versatile tool for all. Whether you're a content creator, developer, or student, BoltAI is sure to elevate your AI experience.
Tell the world BoltAI has been featured on NaNAI.tools:
BoltAI Reviews
What's your experience with BoltAI?
There are no reviews yet.
Related AI tools to BoltAI