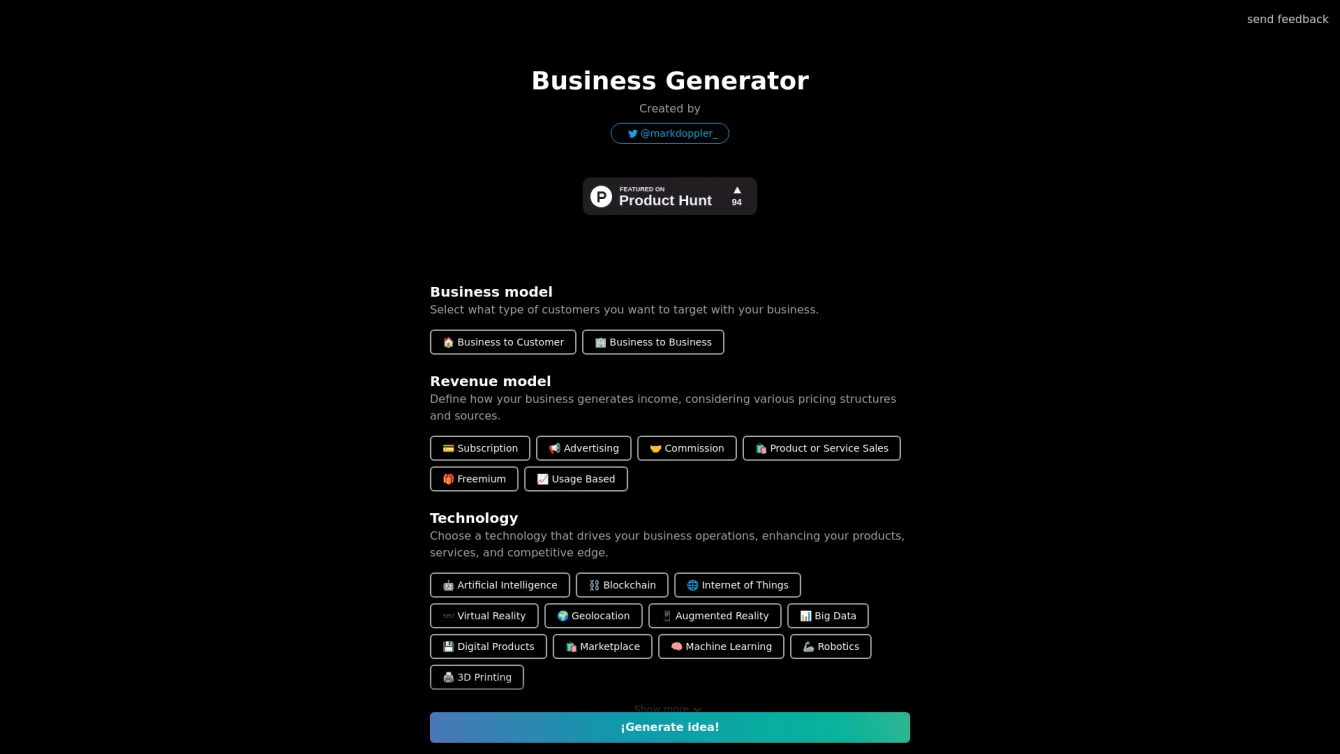 Transforming Your Thoughts into Potential Business Concepts.
Product information and features
Let's introduce Business Idea Generator AI, a powerful tool that transforms your thoughts and responses into potential business concepts. This AI tool involves the user in a series of questions, covering a vast range of business-related topics such as target market, revenue streams, technological advancements, and industry dynamics.
With your input, the tool creates a unique business idea, tailored to your specifications. It presents an assortment of options for each aspect of the business, allowing you to fine-tune your idea. The tool can accommodate both B2B and B2C target markets and an array of revenue models including subscription, advertising, commission-based, sales, and usage-based strategies.
When it comes to technology, Business Idea Generator AI is not limited. It can incorporate Artificial Intelligence, Blockchain, Internet of Things, Virtual Reality, and more into your business model. You can apply it across numerous industries, such as Technology, Education, Finance, Healthcare, and beyond.
The tool even factors in the competitive landscape, initial investment, expertise level, environmental impact, and regulatory compliance of the proposed business idea. This makes it a comprehensive assistant in generating business ideas.
In conclusion, Business Idea Generator AI provides a systematic and comprehensive approach to business idea generation. Its main features include a wide range of options for each business aspect, the ability to include various technologies and industries, and consideration of market competition and compliance requirements. It is a beneficial tool for aspiring entrepreneurs, startup founders, or anyone interested in exploring new business ventures.
Tell the world Business Idea Generator AI has been featured on NaNAI.tools:
Business Idea Generator AI Reviews
What's your experience with Business Idea Generator AI?
There are no reviews yet.
Related AI tools to Business Idea Generator AI