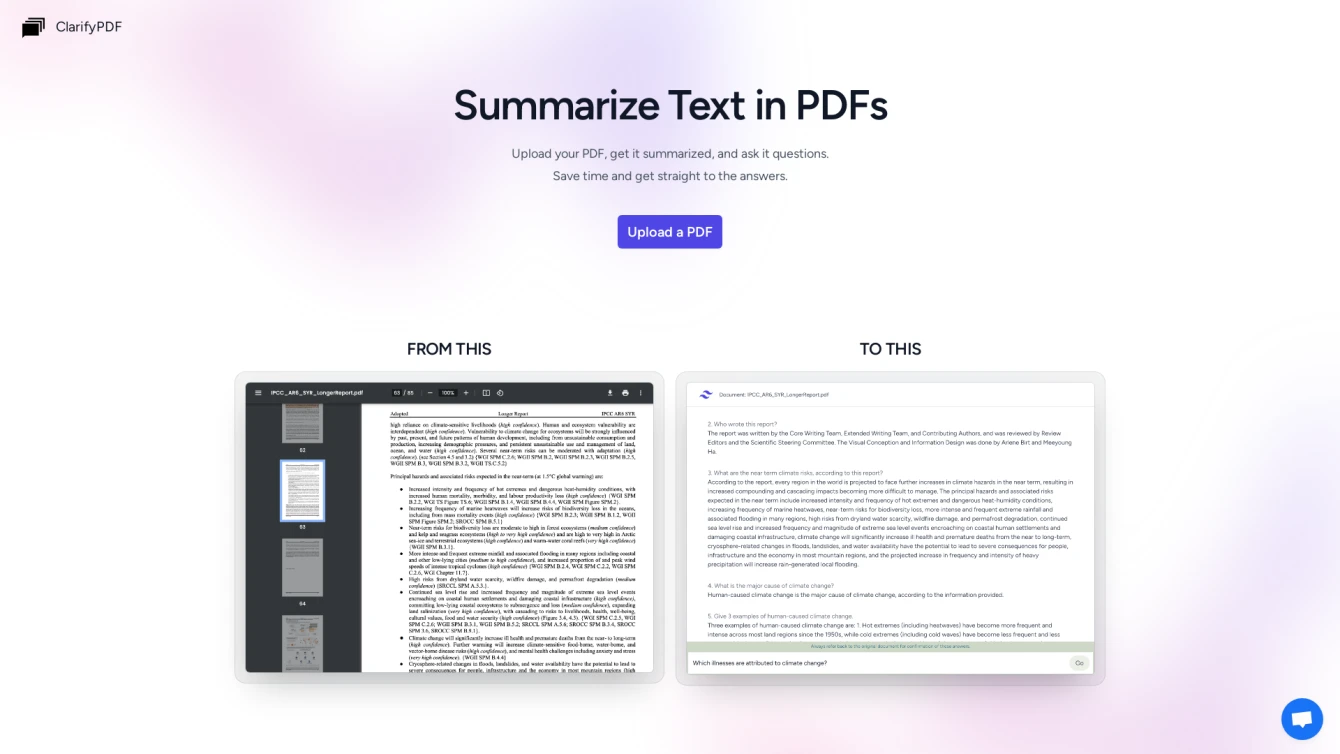 Transforming the way you interact with PDF documents.
Product information and features
Discover the power of an AI tool that redefines the way you interact with PDF documents: ClarifyPDF. This cutting-edge technology lets you query your PDF files directly, providing swift and precise responses. It makes the process of sifting through lengthy and complex PDF documents considerably easier by enabling natural language searches.
With ClarifyPDF, you have the capacity to upload PDFs that are up to 10MB and pose as many as 100 questions with no time constraints. You will receive a unique link to your document, which you can share with others, allowing them to ask their own questions too. This feature makes clarifypdf.com a collaborative tool.
Using ClarifyPDF is a breeze, and with no recurring fees or the need for subscriptions, it's also cost-effective. A minimal payment of $1.99 per PDF document gives you access to this service. This tool is versatile and finds its utility in various fields such as academia, comprehension of contemporary issues, and referencing user manuals.
It assists users in locating the information they require directly from the PDF, making it an invaluable tool for individuals as well as teams seeking to implement the service across their organization.
In summary, ClarifyPDF is a powerful and efficient solution for unraveling complex PDF documents. It's an indispensable tool for those seeking access to information expediently and accurately. Whether you're a student researching for a project, an employee needing to reference a manual, or a team collaborating on a document, this AI tool will streamline your experience.
Tell the world ClarifyPDF has been featured on NaNAI.tools:
ClarifyPDF Reviews
What's your experience with ClarifyPDF?
There are no reviews yet.
Related AI tools to ClarifyPDF