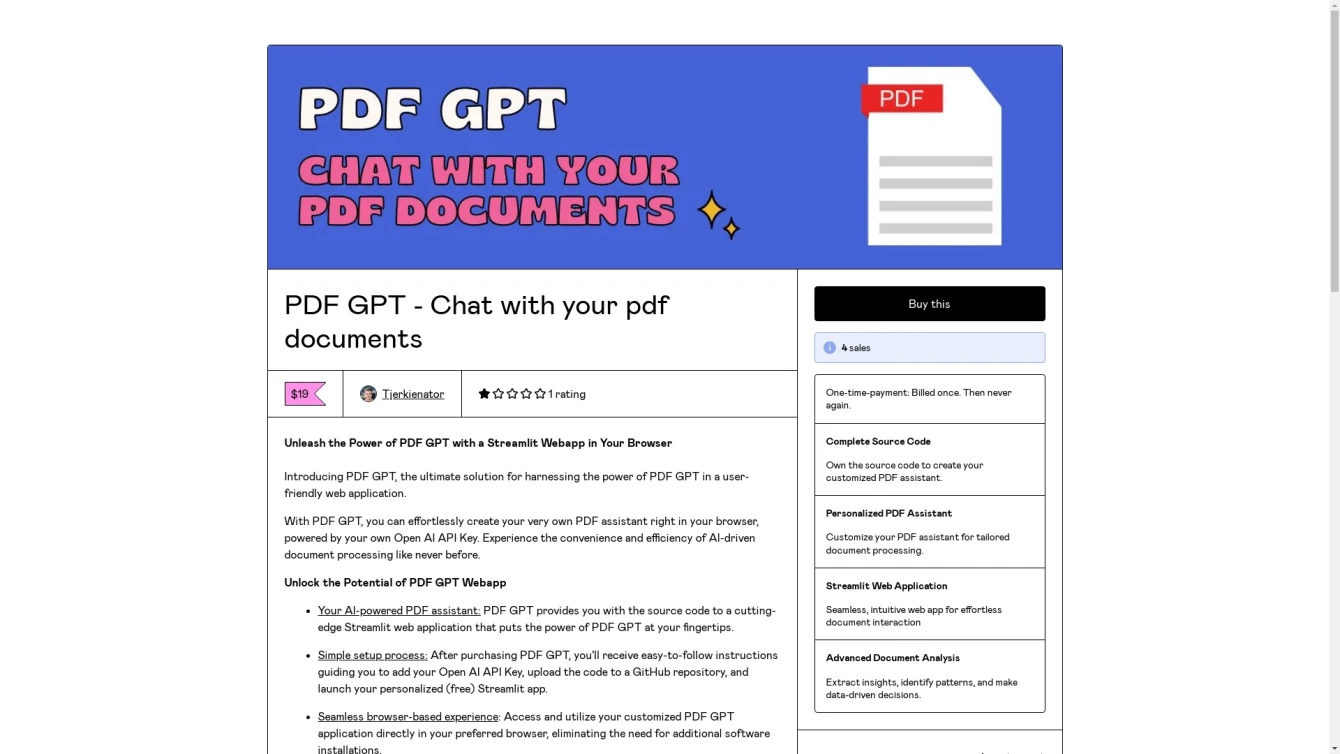 Empowering document analysis with your personalized AI PDF assistant.
Product information and features
PDF GPT provides a source code package that empowers you to establish your personalized PDF assistant, leveraging the power of your own Open AI API Key. This AI tool is an intuitive web application hosted on Streamlit, removing the need for any extra software installations. With its advanced document analysis capabilities, you can delve deep into your PDF documents, extracting valuable insights with exceptional precision and speed.
With the flexibility to tailor it to your specific needs, it's a handy companion for researchers, legal experts, and data analysts. PDF GPT (therealtjerkienator.gumroad.com) aims to simplify document handling procedures by automating monotonous manual tasks, thereby enhancing overall productivity.
You can now enjoy the comfort, effectiveness, and control of AI-driven document analysis while maintaining data ownership and security with your Open AI API Key. The tool's integration with GitHub offers easy management and updating options, promoting smooth collaboration and version control.
Launching your personalized PDF GPT on Streamlit, a robust open-source framework, offers you a professional-grade user experience without any additional charges. To utilize PDF GPT, simply purchase the source code package and adhere to the provided setup instructions, requiring minimal knowledge of git and GitHub.
In summary, PDF GPT is a comprehensive solution that allows you to create your own AI-infused PDF assistant right in your browser. It simplifies document processing tasks, provides advanced document analysis, and promotes collaboration through GitHub integration. By following a few simple steps, you can take your document processing capabilities to the next level.
Tell the world PDF GPT has been featured on NaNAI.tools:
PDF GPT Reviews
What's your experience with PDF GPT?
There are no reviews yet.
Related AI tools to PDF GPT