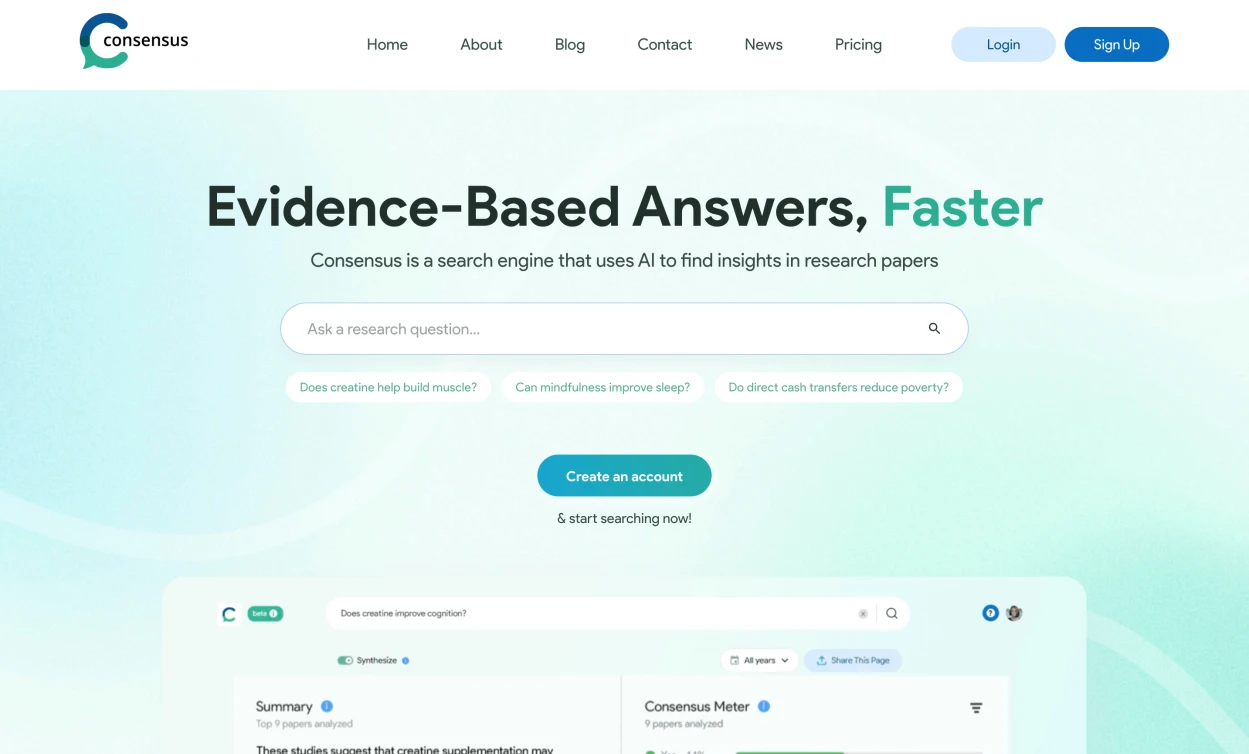 Fast-track your scientific research with AI-powered insights.
Product information and features
Experience the power of artificial intelligence with Consensus, a state-of-the-art AI tool designed to expedite your scientific research. This tool leverages AI to swiftly scan through volumes of peer-reviewed studies, extracting key points and presenting them to you in an easily understandable format.
Consensus eliminates the need for laborious manual research, ensuring that you have access to vital information from the scientific community at record speed. Its results are devoid of ads and founded solely on evidence gleaned from peer-reviewed studies, making it a reliable source for unbiased information.
Whether you're seeking answers to complex questions like the efficacy of Covid-19 vaccines, the advantages of mindfulness, or the role of blue light glasses in sleep, Consensus has you covered. It's a seamless platform that allows you to delve into various scientific inquiries with a simple search.
Signing up for the free beta version of Consensus lets you experience its vast capabilities firsthand. Take advantage of this AI tool to gain a wealth of knowledge at your fingertips, all while saving precious time and effort.
Summing it up, Consensus is an AI tool that revolutionizes the way you conduct scientific research. It reads and extracts vital information from peer-reviewed studies, provides ad-free and unbiased results, and allows free access to its beta version. Its uses range from answering healthcare-related queries to analyzing the benefits of lifestyle practices. With Consensus, your research process becomes efficient and hassle-free.
Tell the world Consensus has been featured on NaNAI.tools:
Consensus Reviews
What's your experience with Consensus?
There are no reviews yet.
Related AI tools to Consensus