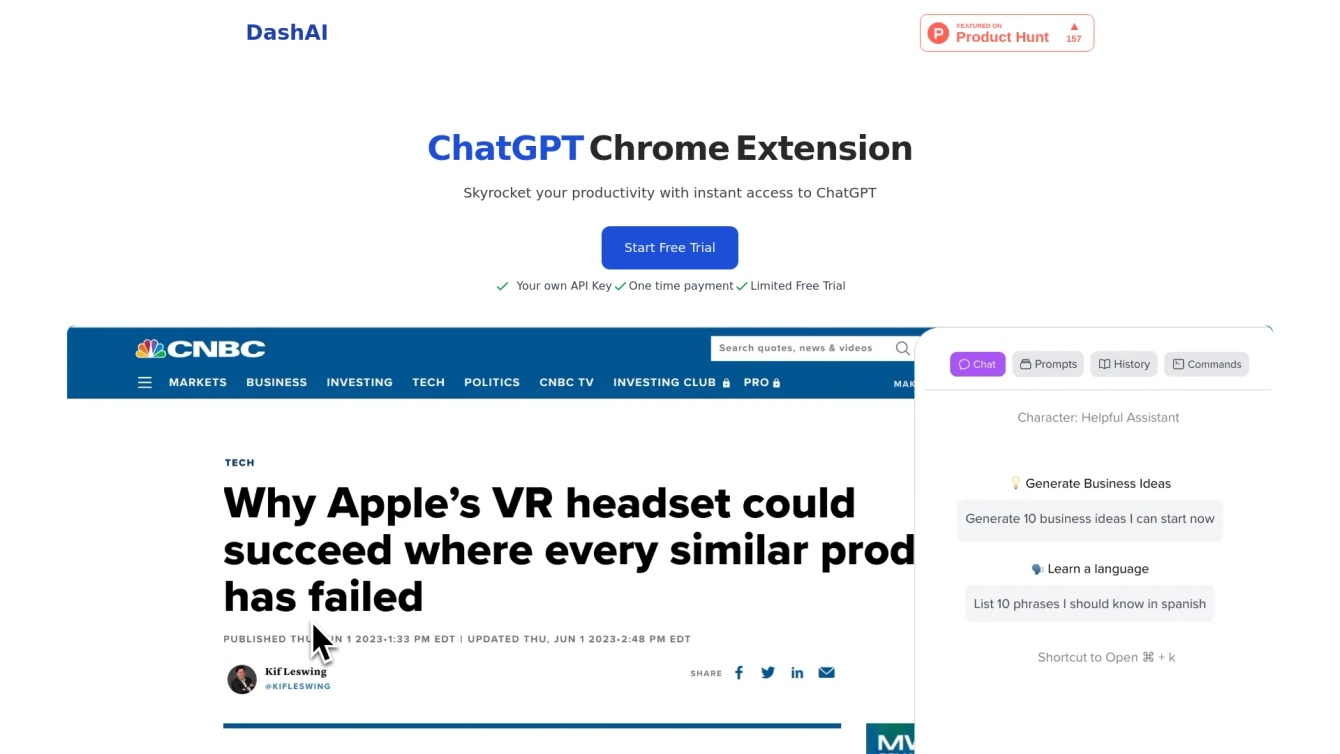 Unleashing the Power of AI in Your Browser, One Webpage at a Time.
Product information and features
Experience the convenience of interacting with an AI language model directly from your web pages with the DashAI Chrome extension. This AI tool equips you with the power to initiate a side chat swiftly, manage commands on text, and populate text fields with AI-created content. It's like having a digital assistant right within your browser.
Personalize the tool using your unique API keys and enjoy the liberty of unlimited use after just a single payment. Dashai offers a well-stocked prompt library to kickstart your journey and provides the flexibility to add and edit commands as per your needs.
With the AI Text Expander feature, the tool generates content through natural language processing. This function is extremely handy for tasks such as summarizing lengthy documents or translating text into various languages. It's a smart solution for saving time and enhancing productivity.
Enjoy the seamless user interface of this Chrome extension that eliminates the need for context switching and ensures access on every webpage. Also, rest easy knowing that all your data stays secure within your browser and never gets stored on dashai.com servers. And if you ever need assistance, support is just an email away.
Summarily, DashAI is a one-stop solution for AI-powered language processing and content generation. With features like a user-friendly interface, a customizable API key, a prompt library, and the ability to access it on any webpage, it's a tool designed to streamline your digital interactions. Whether you need to summarize text, translate content, or simply want an AI-enabled side chat, DashAI can make it happen.
Tell the world Dashai has been featured on NaNAI.tools:
Dashai Reviews
What's your experience with Dashai?
There are no reviews yet.
Related AI tools to Dashai