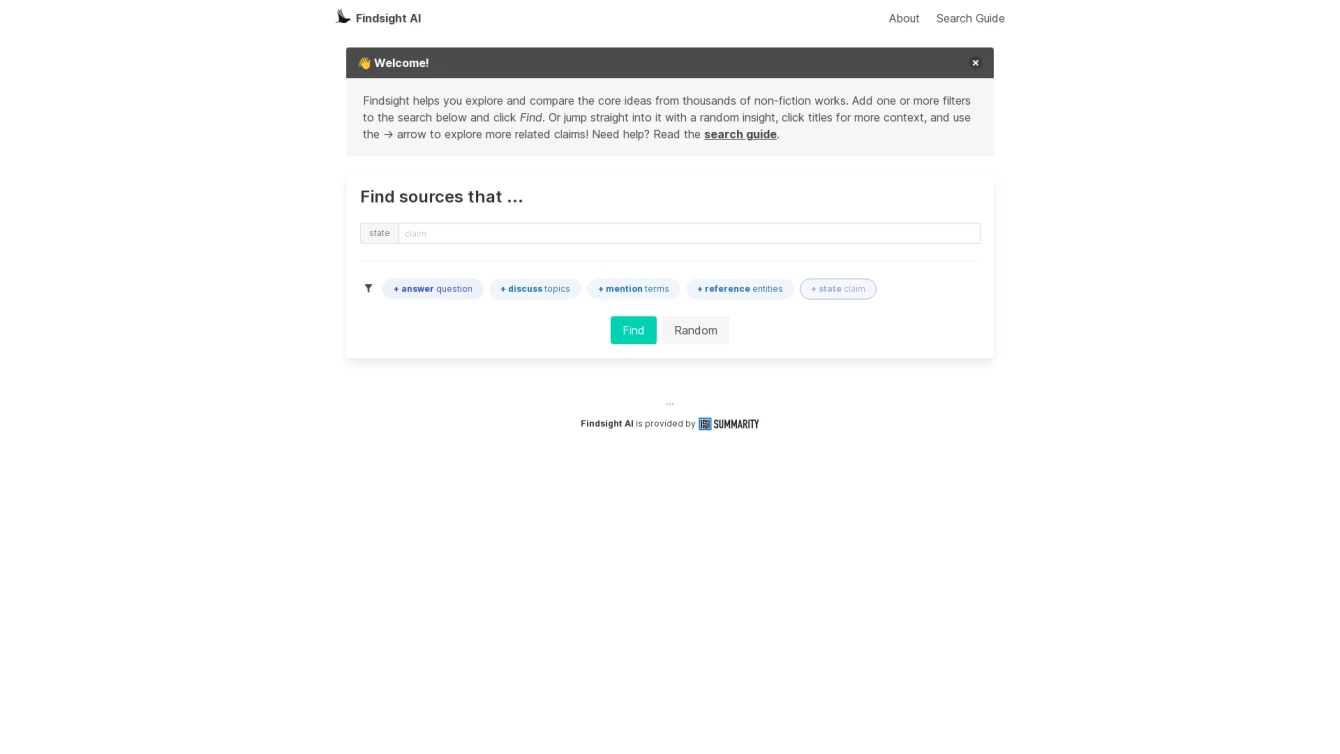 Uncover, Compare, and Learn: The Future of Syntopical Reading.
Product information and features
Explore and contrast thousands of core ideas from non-fiction materials with Findsight, an AI tool that brings syntopical reading into the digital age. With this tool, you can discover and compare assertions from numerous sources, effortlessly navigate around related topics, and customize your own learning journey.
Refine your search results using basic filters such as MENTION and REFERENCES filters, or leverage more advanced AI-powered filters including STATE and ANSWER. The MENTION filter mirrors traditional search engines, recognizing sources based on exact text, whereas the REFERENCES filter recommends named entities or notions referenced in multiple sources for more precise results.
Similarly, the DISCUSS filter focuses on specific tags linked to a source. The AI-powered STATE and ANSWER filters enable you to input your own assertions, unearth related claims for citation, and discover assertions that address a question with supportive data to assist in answering it.
As an end result, Findsight provides a comprehensive platform for uncovering and contrasting ideas from a myriad of sources, thereby enriching your comprehension and knowledge on a vast array of topics.
In summary, Findsight is a game-changer in the world of syntopical reading and research. Its main features include advanced AI filters, the ability to compare ideas from numerous sources, and personalized learning journeys. It can be used in numerous scenarios such as academic research, business strategy development, and personal knowledge enhancement. It's a tool that delivers a more efficient and enriched learning experience.
Tell the world Findsight has been featured on NaNAI.tools:
Findsight Reviews
What's your experience with Findsight?
There are no reviews yet.
Related AI tools to Findsight