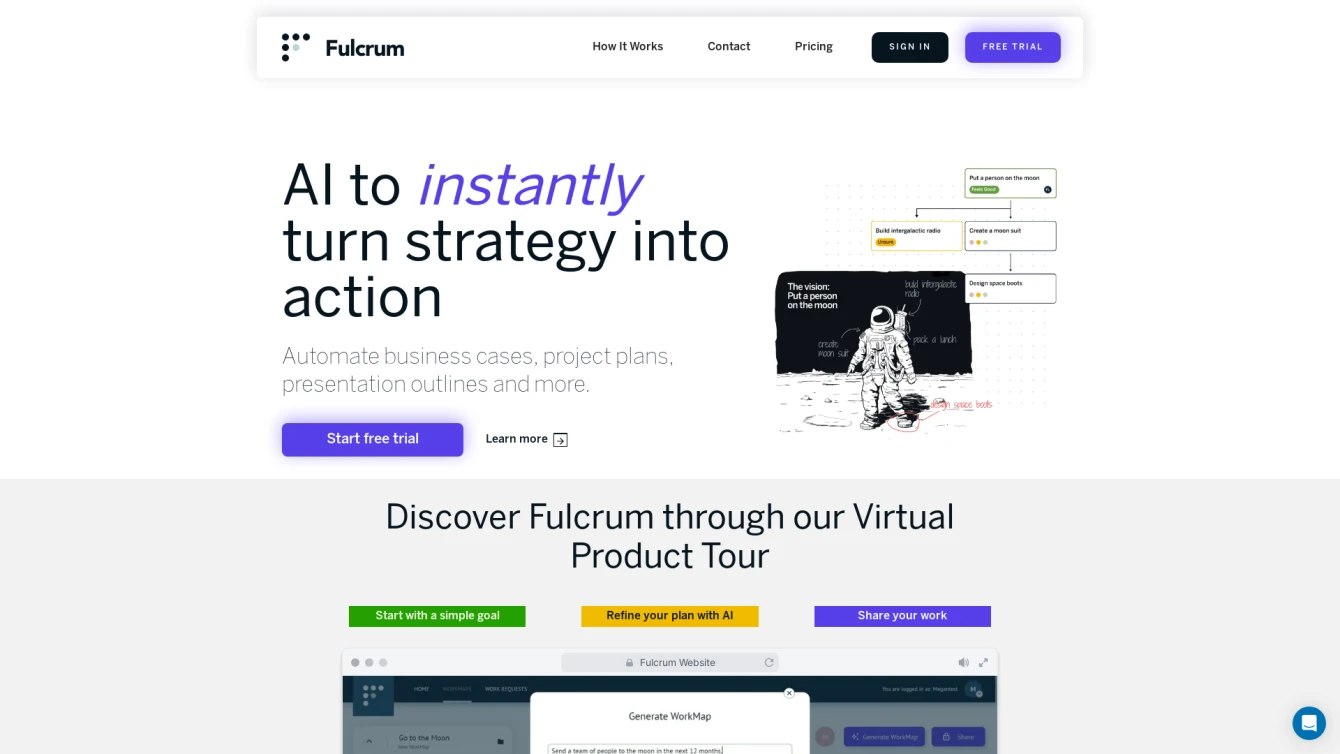 Bridging strategy and execution with AI-powered efficiency.
Product information and features
Experience the power of AI with Fulcrum, an online tool that effectively bridges the gap between strategy and execution. It provides a comprehensive solution for business leaders and teams aiming to turn their strategies into action swiftly and with precision. By automating the creation of various strategic documents such as project plans, business cases, and presentation outlines, it critically saves time and resources.
Fulcrum offers an intuitive canvas to visualize your work, making planning, aligning, and resourcing your strategy a seamless process. The AI tool also includes a virtual product tour that assists in refining your plan and sharing your work, enhancing collaboration and transparency within your team.
With the AI-Copilot feature of Fulcrum, you can generate documents like project briefs, executive summaries, and risk analyses in a matter of seconds. This is particularly advantageous in areas such as project management, digital transformation, business consulting, and turnarounds.
Fulcrum's key features extend to identifying and analyzing key metrics related to retention and talent management, conducting surveys, crafting customized career development plans, offering competitive compensation packages, and tracking retention rates. By rolling out programs in phases and conducting post-implementation surveys, it ensures effective results measurement.
To sum up, Fulcrum is your go-to AI tool for enhancing organizational performance and competitiveness, improving employee engagement and job satisfaction, and increasing leadership development and succession planning. By streamlining strategy execution, it helps to bolster employee morale and retention.
Tell the world Fulcrum has been featured on NaNAI.tools:
Fulcrum Reviews
What's your experience with Fulcrum?
There are no reviews yet.
Related AI tools to Fulcrum