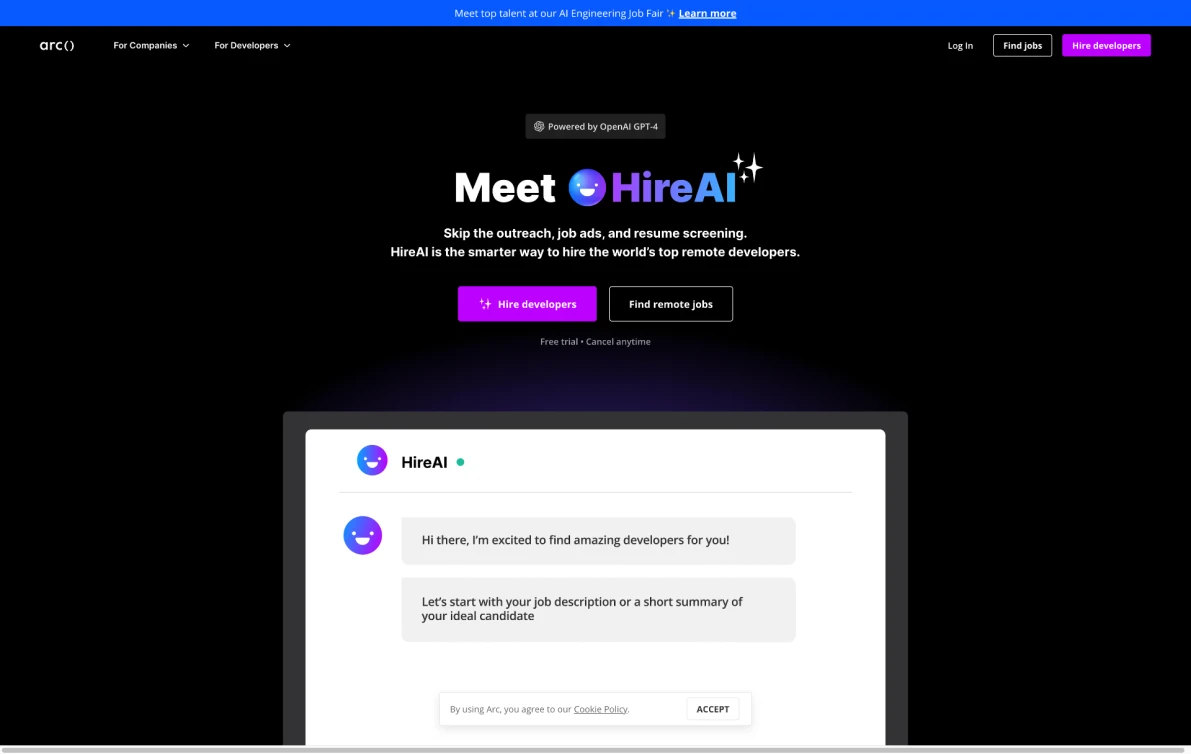 Streamlining Developer Recruitment with Artificial Intelligence.
Product information and features
Delve into the innovative world of our AI tool, HireAI, an integral part of the tech-driven recruitment platform, Arc. This AI tool is laser-focused on streamlining the recruitment process of software developers, either full-time or freelance. With Hire AI, you can say goodbye to time-consuming manual screenings and the drudgery of resume sifting.
Arc uses Hire AI to swiftly connect businesses with the most suitable candidates from a global talent pool of over a quarter of a million developers. This AI tool saves you time and resources by delivering instant candidate matches, allowing you to focus on the top-tier applicants rather than sifting through hundreds of resumes.
The AI tool continues to learn and adapt to your company's preferences after each review, resulting in personalized results for an enhanced hiring experience. Arc offers significant benefits to businesses, including instant access to the best match candidates, automatic identification of relevant profiles, reduced bias in candidate evaluation, and a streamlined hiring process.
Join the ranks of over 800 companies that have successfully hired developers through Arc. It offers a diverse pool of engineers across the globe, covering a wide spectrum of technical skills. With the aid of Arc, businesses can effectively and efficiently hire top remote developers, leading to substantial cost savings, time efficiency, and improved hiring outcomes.
Arc, powered by Hire AI, is more than just a platform; it's your partner in tech recruitment. It offers a powerful AI tool, a diverse talent pool, and a streamlined recruitment process. Whether you're looking to hire on a full-time or freelance basis, Arc and Hire AI are here to simplify and enhance your hiring process.
Tell the world HireAI by Arc has been featured on NaNAI.tools:
HireAI by Arc Reviews
What's your experience with HireAI by Arc?
There are no reviews yet.
Related AI tools to HireAI by Arc