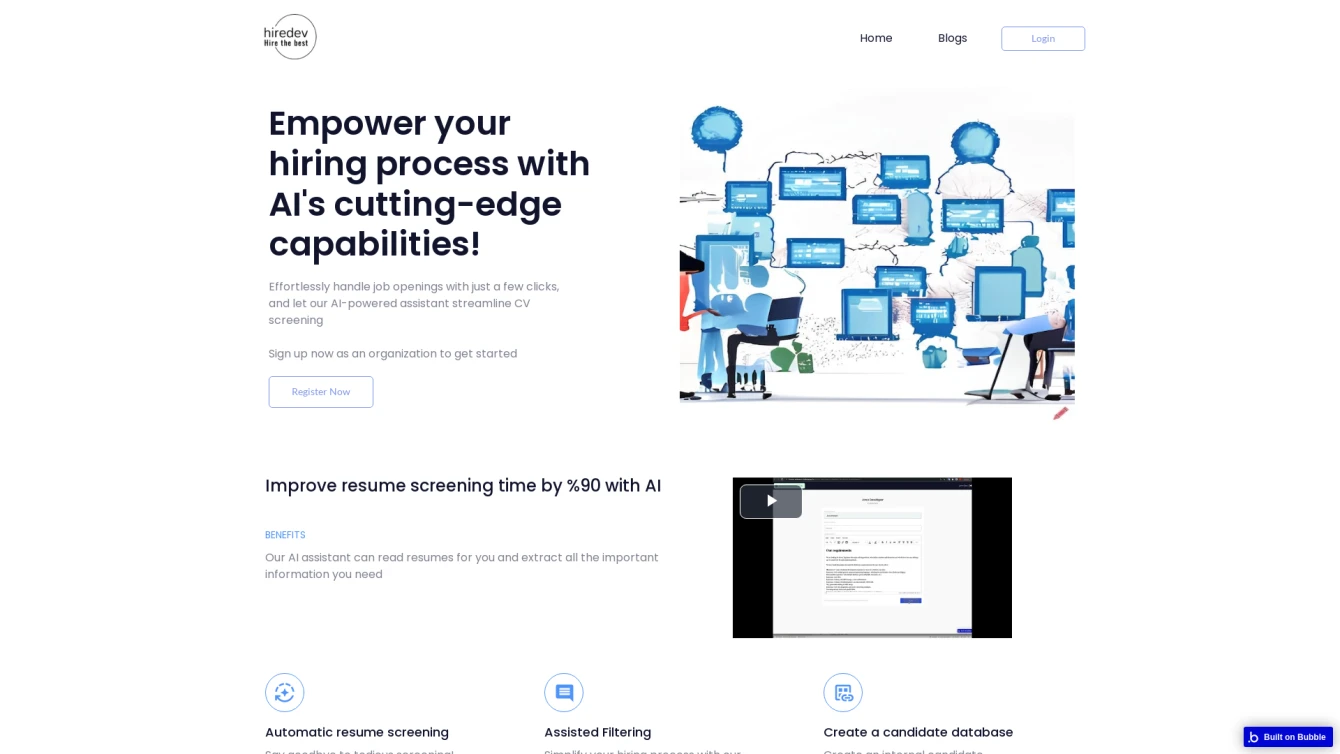 Streamlining Recruitment with AI-Powered Efficiency.
Product information and features
Allow us to introduce HireDev - an AI tool revolutionizing the recruitment process. This sophisticated platform uses artificial intelligence to automate and streamline various aspects of talent acquisition, from screening resumes to filtering potential candidates. The goal? To simplify and expedite your hiring process.
HireDev's capabilities extend beyond just resume screening. It lets you craft job postings, receive resumes, and organize all candidate information in one place. The AI component processes this data, extracting relevant details to help you find the perfect fit for your organization.
What sets HireDev apart is its state-of-the-art search function. This tool, backed by cutting-edge technology, provides you with real-time recruitment insights through an easy-to-understand dashboard. Its modern, adaptive design ensures seamless operation across all devices, allowing candidates to apply anytime, anywhere.
HireDev, created on the Bubble point-and-click programming tool, provides a user-friendly experience for building web applications hosted on a cloud platform. This makes the recruitment process not only efficient but also cost-effective. By automating the screening process, HireDev minimizes the time and resources spent on recruitment, driving you closer to your ideal candidates.
In summary, HireDev combines a comprehensive set of features including AI-assisted filtering, a robust search function, real-time dashboards, and a modern responsive design. Whether you're looking to fill one vacancy or hundreds, HireDev can support your needs efficiently. With a 14-day free trial and a fixed monthly fee, you can explore its potential for an unlimited number of users and vacancies.
Tell the world Hiredev has been featured on NaNAI.tools:
Hiredev Reviews
What's your experience with Hiredev?
There are no reviews yet.
Related AI tools to Hiredev