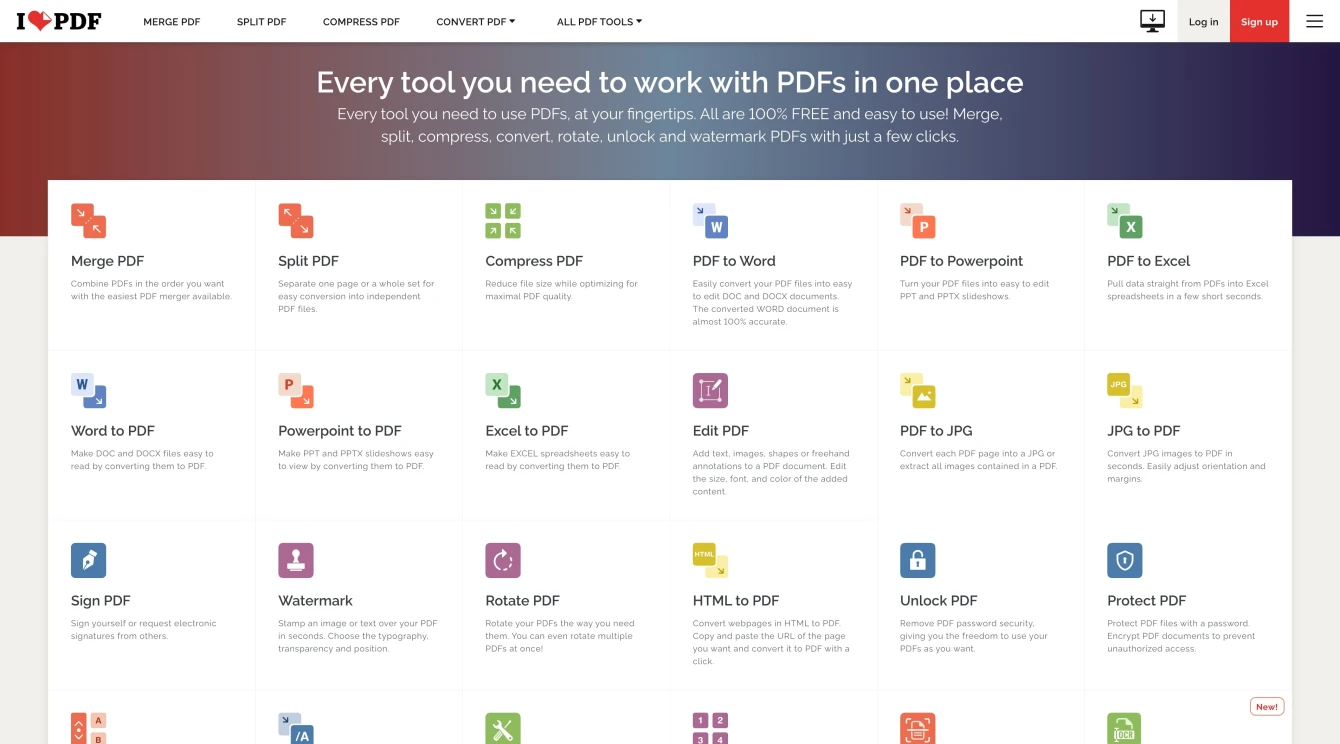 Every tool you need to work with PDFs in one place.
Product information and features
ILovePDF is an exceptional online PDF solution that has been meticulously designed to provide users with a seamless and efficient experience in managing their PDF files. This remarkable tool offers a wide range of solutions, encompassing merging, splitting, compressing, unlocking, protecting, and converting documents between various file formats. It is an indispensable online resource for anyone seeking to effortlessly process their PDF files.

The process of using ILovePDF commences with the selection of the desired PDF files that users wish to upload, either from their computer or cloud storage. Once the files have been chosen, ILovePDF offers a plethora of options to effectively process them. Depending on the task at hand, users can access an array of tools, including merging multiple PDF files into a single document, splitting a large document into smaller parts, compressing files to reduce their size, unlocking password-protected documents, protecting sensitive information with encryption, and converting between different file formats.

Moreover, ILovePDF ensures the safety and security of documents by providing a secure online connection. Users can rest assured that their files are protected throughout the entire process. In addition, this remarkable service offers the convenience of unlimited PDF uploads and downloads, with a generous file size limit of up to 50 MB. Furthermore, IlovePDF is compatible with all major web browsers, such as Chrome, Safari, Firefox, and Internet Explorer, enabling users to access its exceptional features seamlessly.

Among the outstanding features of ILovePDF, the tool's ability to merge multiple PDF files into a cohesive and organized document stands out. With just a few clicks, users can effortlessly combine numerous documents into a single PDF file, streamlining the process and enhancing productivity. Additionally, the split feature of IlovePDF empowers users to efficiently divide a large document into smaller and more manageable parts. This functionality proves invaluable in situations where documents are too large to email or require divided sections for specific purposes. Overall, IlovePDF emerges as an indispensable online tool that revolutionizes the management and manipulation of PDF files, making it an essential resource for users from all walks of life.
Tell the world ILovePDF has been featured on NaNAI.tools:
ILovePDF Reviews
What's your experience with ILovePDF?
There are no reviews yet.
Related AI tools to ILovePDF