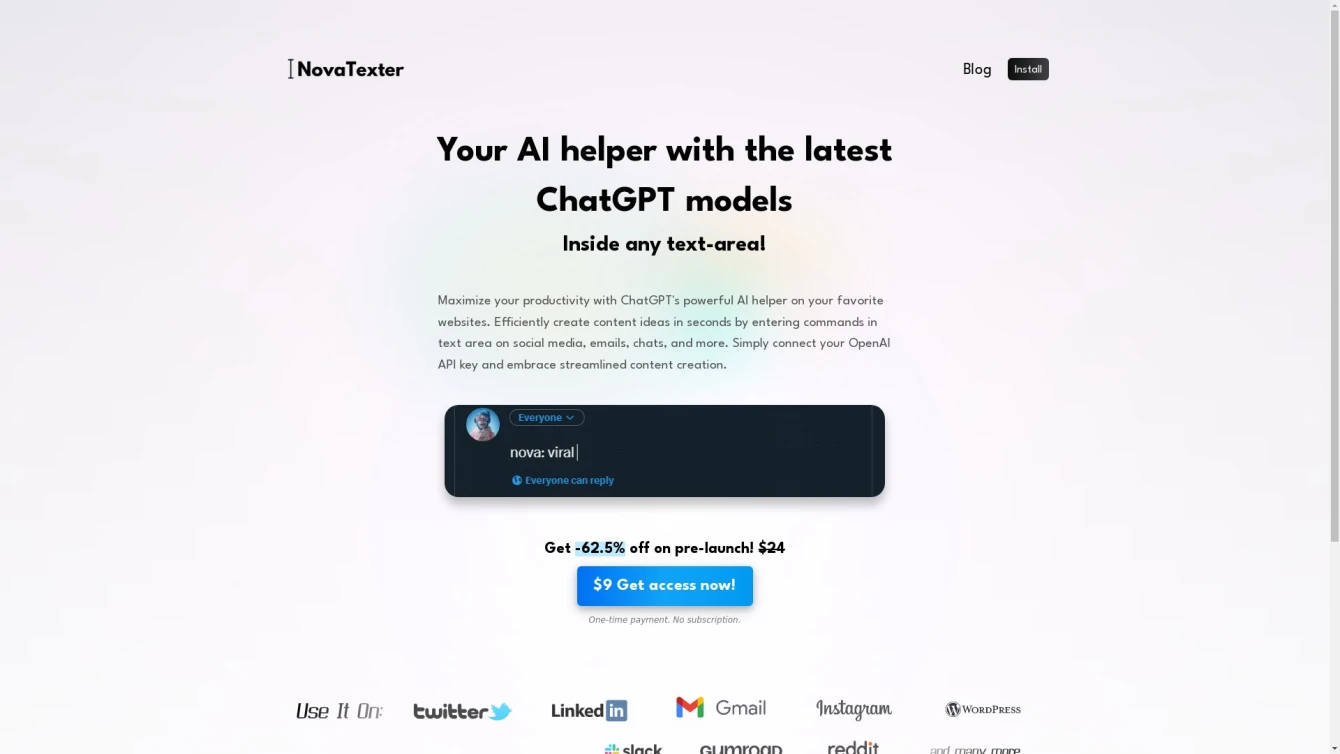 Empowering content creation with advanced AI integration.
Product information and features
NovaTexter functions as an AI tool designed to boost productivity through the advanced utilization of ChatGPT's latest models. It provides a platform for rapid generation of content ideas using text commands in diverse text areas like social media, emails, and chats.
novatexter.com lets you use the tool on your preferred websites, offering an effortless experience in content creation. By linking your OpenAI API key, the tool is easily accessible, paving the way for optimized content generation. NovaTexter stands out with its one-off payment model, removing the hassle of subscriptions.
It also presents a collection of features and resources to aid users in maximizing their productivity. These include an installation guide for Chrome users, comprehensive instructions for effective tool usage, a command library to enhance user experience, and a detailed explanation of NovaTexter's features.
NovaTexter embodies the concept of an AI assistant that exploits the power of ChatGPT's cutting-edge models to support users in producing content ideas swiftly and efficiently. By facilitating seamless integration with various text fields on multiple websites, NovaTexter is committed to promoting user productivity and streamlined content creation, without the burden of a regular subscription.
In conclusion, NovaTexter excels as an AI tool that simplifies the process of content creation. Its main features include the use of ChatGPT's latest models for idea generation, seamless integration with various websites, a user-friendly command library, and a one-time payment model. Whether for social media posts, emails, or chats, NovaTexter can assist you in creating compelling content quickly and efficiently.
Tell the world NovaTexter has been featured on NaNAI.tools:
NovaTexter Reviews
What's your experience with NovaTexter?
There are no reviews yet.
Related AI tools to NovaTexter