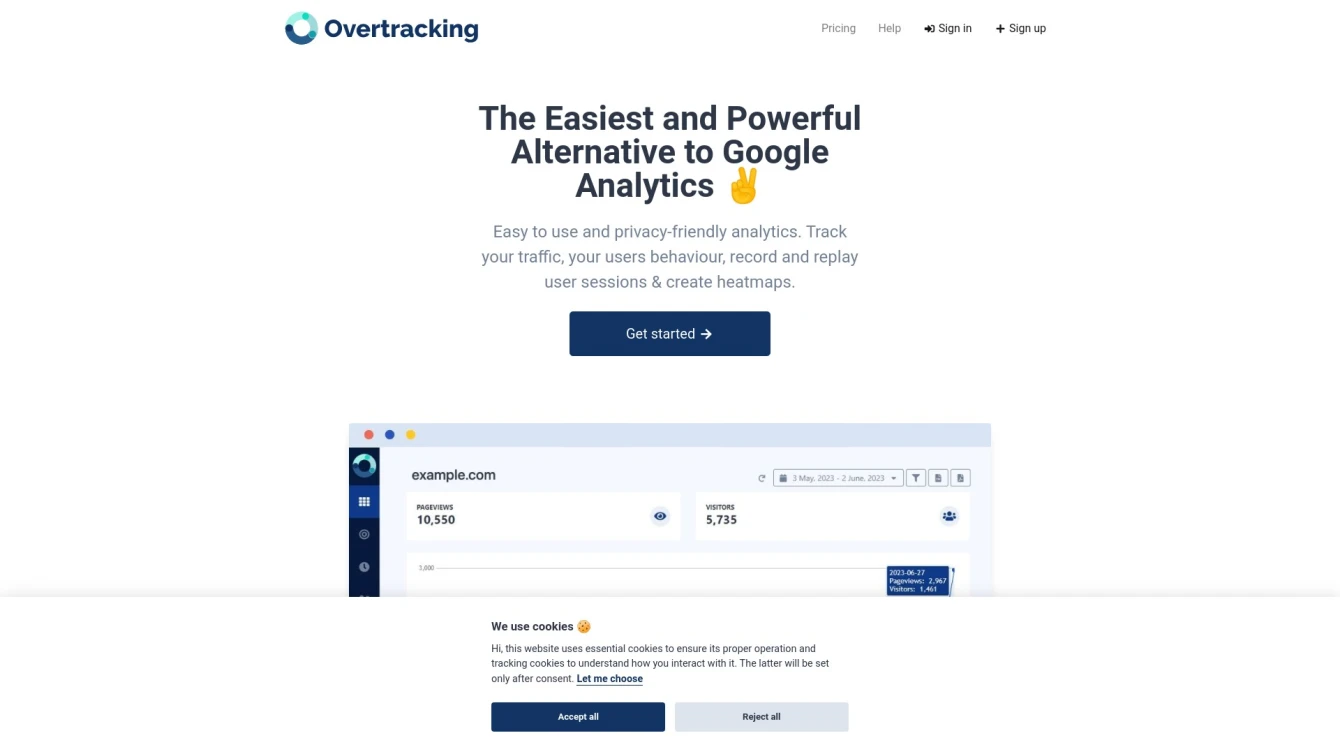 An Easy and Powerful Alternative to Google Analytics.
Product information and features
Overtracking is a comprehensive web analytics tool by Mario Armenta, a Spanish entrepreneur, that offers a user-friendly interface and respects privacy. It allows users to track their website's traffic, analyze user behavior, record and replay user sessions, and create heatmaps. The tool's clean and simple interface makes it easy to navigate. It is a super good alternative to Google Analytics and Plausible Analytics.

Understanding users is crucial for improving a website, and this tool helps achieve this by checking each visitor's path and activities on the site. It also allows monitoring the number of online users, identifying popular devices, and determining the most accessed pages of the website.

One standout feature of Overtracking is heatmaps, which provide an intuitive way to assess the usage of different sections on the website. By analyzing the collective behavior of users, the most utilized areas can be identified, allowing for optimization of website design and content.

Replaying user sessions provides valuable feedback for website improvements. Overtracking prioritizes data privacy, ensuring that users retain full control over their data. It also offers a generous package, allowing up to 1,000 pageviews per month per website, making it suitable for businesses of all sizes.

In conclusion, Overtracking offers a straightforward and privacy-friendly solution for tracking and analyzing website performance. Its user-friendly interface, informative features like heatmaps and session replays, and commitment to data privacy make it an appealing choice for businesses of all sizes.
Soon Overtracking will add AI-related features to help you boost your website traffic.
Tell the world Overtracking has been featured on NaNAI.tools:
Overtracking Reviews
What's your experience with Overtracking?
There are no reviews yet.
Related AI tools to Overtracking