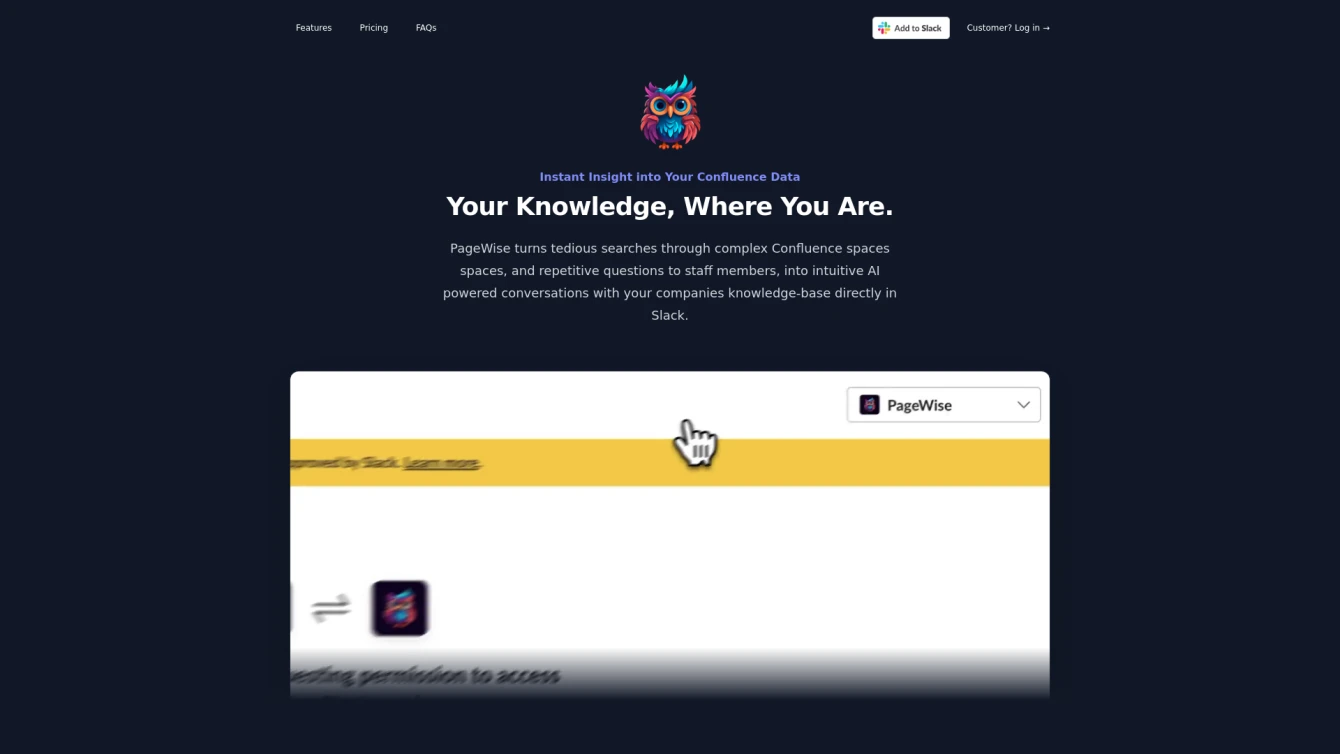 Streamlining Slack and Confluence interactions with AI-powered insights.
Product information and features
Unlock the potential of your Confluence pages in Slack with the help of Pagewise, an AI tool that offers a conversational approach to information access. It's designed to reduce the time you spend on repetitive queries and information searches within your Confluence pages.
Integrating Pagewise with your Slack and Confluence accounts is hassle-free and doesn't require any advanced technical skills. The effortless integration brings the power of Confluence data into your Slack workspace. This AI tool allows you to find hidden insights and connections easily, eliminating the need to navigate through multiple pages.
With Pagewise, you can choose from various flexible pricing plans that cater to all teams, regardless of their size. It offers three payment frequency options: monthly, annually, and enterprise. Each plan varies in the number of ingestion tokens and questions you can ask per month, ensuring that the tool can scale with your business needs for efficient information access.
One of the helpful features of Pagewise is the FAQ section, where you can find answers to common questions about its features and functionality. With this AI tool, you're essentially giving your team a virtual AI expert for their Confluence knowledge base.
Additionally, Pagewise offers a newsletter subscription to keep you updated with all its latest developments. In summary, Pagewise is a powerful AI tool that integrates with Slack and Confluence, offers flexible pricing plans, provides an FAQ section, and keeps users updated with a newsletter.
Tell the world Pagewise has been featured on NaNAI.tools:
Pagewise Reviews
What's your experience with Pagewise?
There are no reviews yet.
Related AI tools to Pagewise