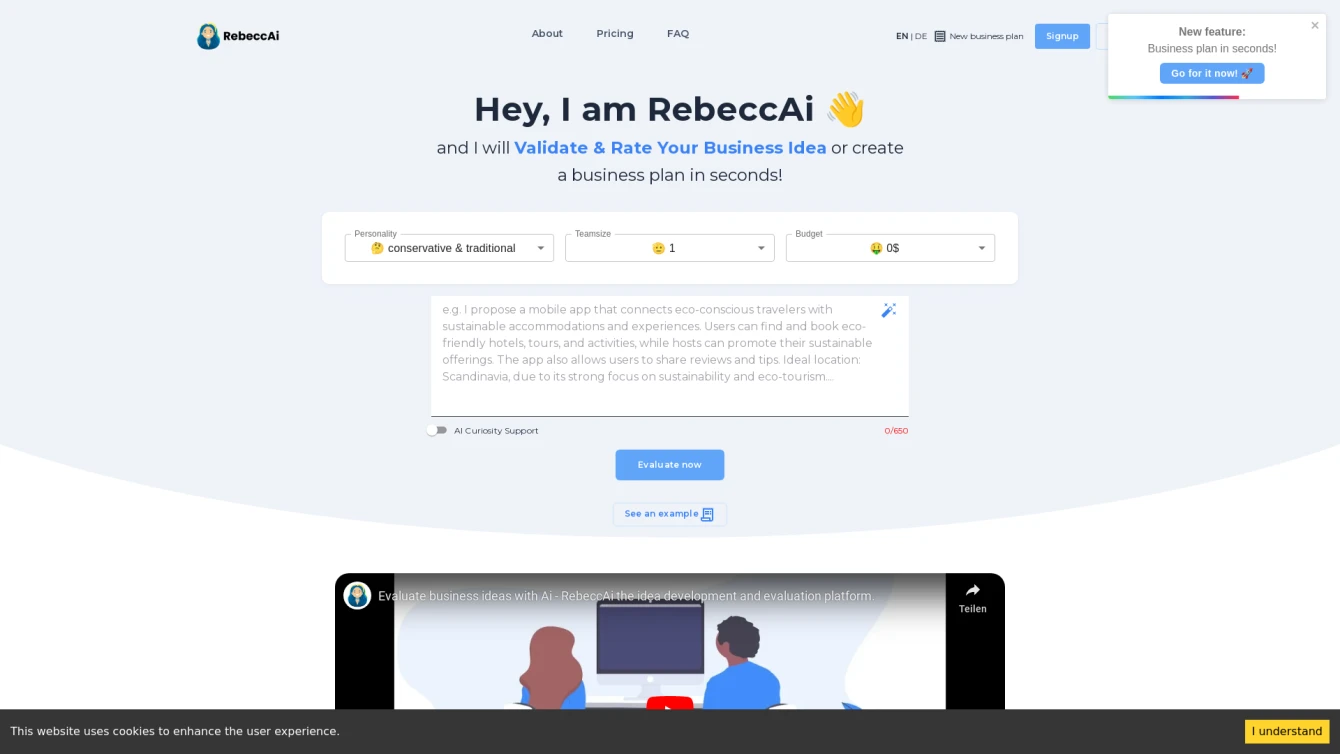 Streamline Your Ideas: Intelligent, Efficient, and AI-Powered.
Product information and features
RebeccAi stands as a cutting-edge AI tool, designed specifically to streamline and optimize the process of idea development and evaluation. With its AI-driven technology, it offers precise insights into the viability and potential of your ideas.
RebeccAi ensures that you can fine-tune your ideas efficiently and smartly leveraging a range of AI resources, making it a perfect companion for individuals keen on boosting their productivity levels.
The platform's unique features include an AI-powered evaluation of your ideas, speedy idea refinement with AI tools, and a comprehensive assessment to identify and enhance the strengths and weaknesses of your idea. These facets of RebeccAi make it an invaluable tool in your arsenal.
It allows you to assess your ideas swiftly and provides a robust foundation for your project, instilling confidence to move forward. The evaluation process culminates in a concise 5-star rating for your idea in no more than 160 characters.
RebeccAi offers a range of subscription options to suit your needs. The free plan gives you access to two evaluation points. The premium plan, priced at $25 per user per month, offers unlimited ideas, up to 500 characters per point, customizable responses, and includes all points. For businesses, there's a one-time payment plan at $29.99 that delivers a customizable, ready-to-use, expert-approved business plan based on your idea.
Summarizing, RebeccAi is your go-to platform for idea management, suitable for everything from business concepts to creative projects. It offers the latest in AI tool technology, enabling users to innovate faster and smarter on rebeccai.com.
Tell the world RebeccAi has been featured on NaNAI.tools:
RebeccAi Reviews
What's your experience with RebeccAi?
There are no reviews yet.
Related AI tools to RebeccAi