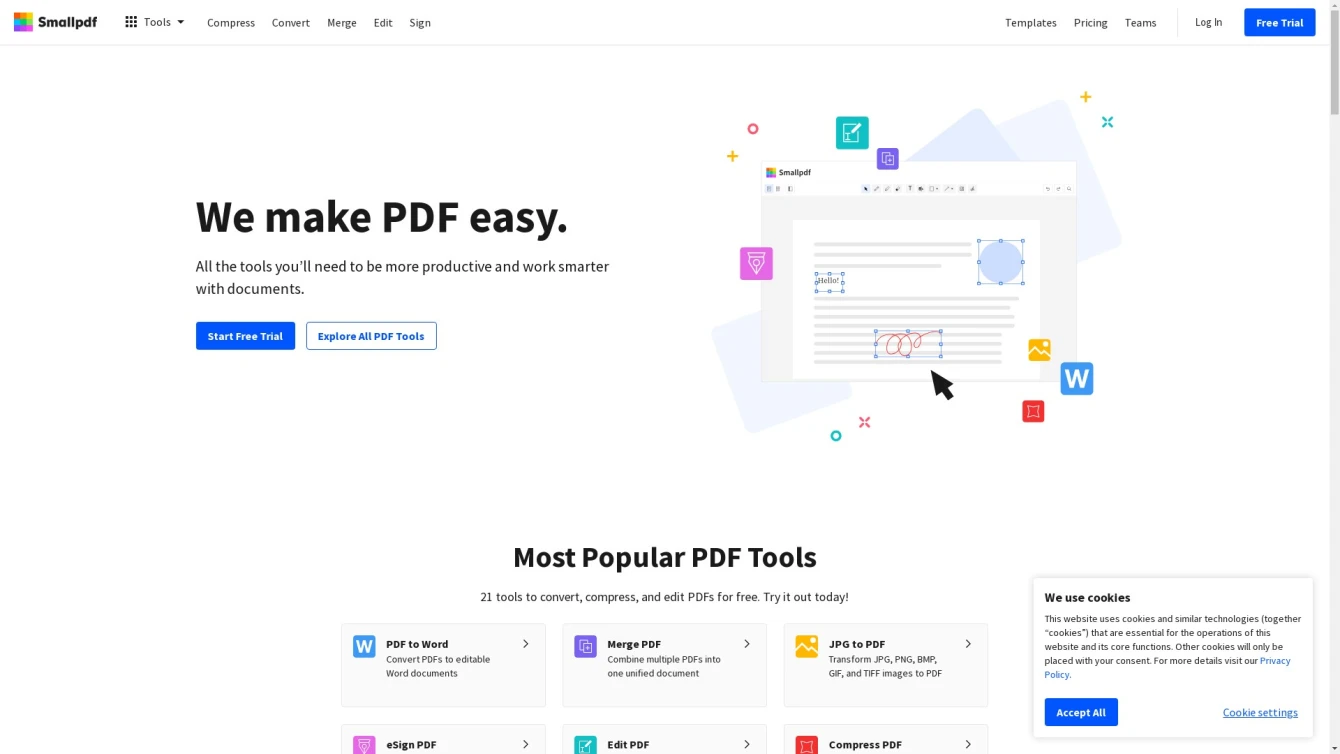 Smallpdf.com makes PDF easy.
Product information and features
Smallpdf.com offers a comprehensive range of tools to increase productivity and improve the efficiency of working with documents. With 21 free tools available, users can convert, compress, and edit PDFs effortlessly. One particular feature allows for the conversion of PDFs into editable Word documents, making it easier to make changes and collaborate with others.

Additionally, Smallpdf enables users to transform various image formats, such as JPG, PNG, BMP, GIF, and TIFF, into PDFs. This feature proves valuable for individuals who need to compile multiple images into a single, easily shareable document. Furthermore, the software allows for the reduction of PDF file sizes without sacrificing quality, ensuring that documents can be shared and stored efficiently.

Smallpdf distinguishes itself as the first and only PDF software that users will truly enjoy. It offers a comprehensive set of tools to facilitate the creation, management, and completion of digital documents. Users can do more than just view PDFs; they can also add highlights, insert text and images, create shapes, and make freehand annotations. Additionally, Smallpdf seamlessly integrates with 20 other tools, allowing users to further enhance their files and streamline their workflow.

Not only can users fill in forms, electronically sign contracts, and close deals quickly and easily, but they can also track the progress of their documents at every step. Furthermore, Smallpdf.com offers features such as file merging, splitting, and the removal of excess pages, eliminating the need for multiple applications. By enabling users to store, manage, and share files directly from the web platform, Smallpdf helps save time and promotes seamless collaboration across devices.
Tell the world Smallpdf.com has been featured on NaNAI.tools:
Smallpdf.com Reviews
What's your experience with Smallpdf.com?
There are no reviews yet.
Related AI tools to Smallpdf.com