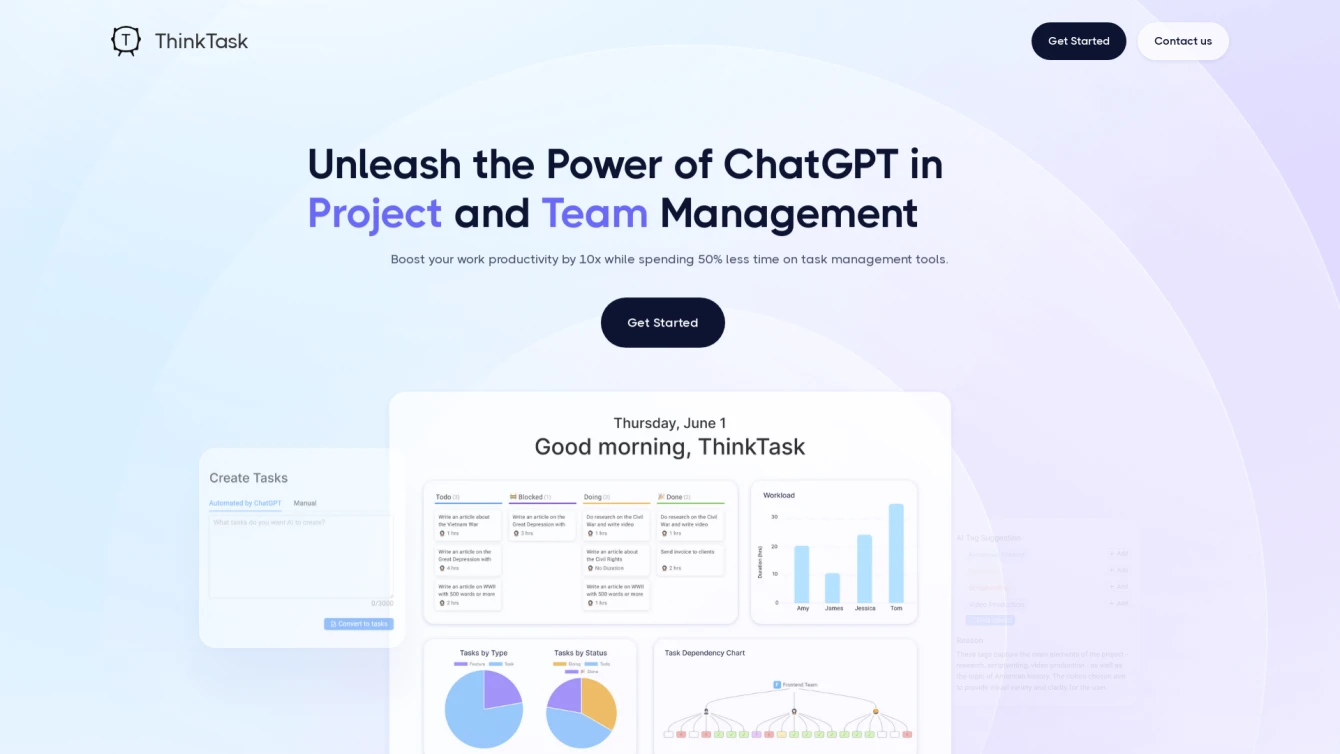 Boosting productivity with AI-driven task management and insights.
Product information and features
Introducing ThinkTask, an AI tool that seamlessly merges state-of-the-art task management with the conversational prowess of ChatGPT. This nifty tool has been designed to revolutionize your work productivity by drastically cutting down the time you spend on task management.
One of the key features of ThinkTask is its ability to automate task creation with a single click, complete with detailed notes, relevant context, and insightful user analytics. This tool takes a data-driven approach towards task assignments, employing AI-generated tags to categorize and organize tasks based on a range of factors like user skills, past experiences, and historical data.
ThinkTask also extends a host of automated reports and insights. It provides a comprehensive understanding of AI utilization by team members, the nature of tasks, project progression, and task interdependencies. A standout feature of this tool is 'Ask AI', which employs historical data to identify the most suitable candidate for a specific task or role.
With ThinkTask, you can leverage various integrations for project insights, ranging from bar charts portraying project progress to tree diagrams illustrating task dependencies. Additionally, it provides a ready-to-use content hub named WorkPage, empowered by ChatGPT's natural language processing capabilities.
ThinkTask offers a unified workspace that harmoniously blends notes, tasks, databases, and collaborative and customizable features for an optimized workflow. In essence, this AI tool is perfectly equipped to streamline your task management process, allowing you to heighten productivity, automate mundane workflows, and gain valuable insights into project performance.
In summary, ThinkTask is a robust AI tool that reshapes task management with advanced features like one-click task creation, data-driven assignments, automated reports, and multiple integrations. With use cases ranging from individual task management to team-oriented workflows, ThinkTask can enhance productivity and efficiency in any work environment.
Tell the world Thinktask has been featured on NaNAI.tools:
Thinktask Reviews
What's your experience with Thinktask?
There are no reviews yet.
Related AI tools to Thinktask