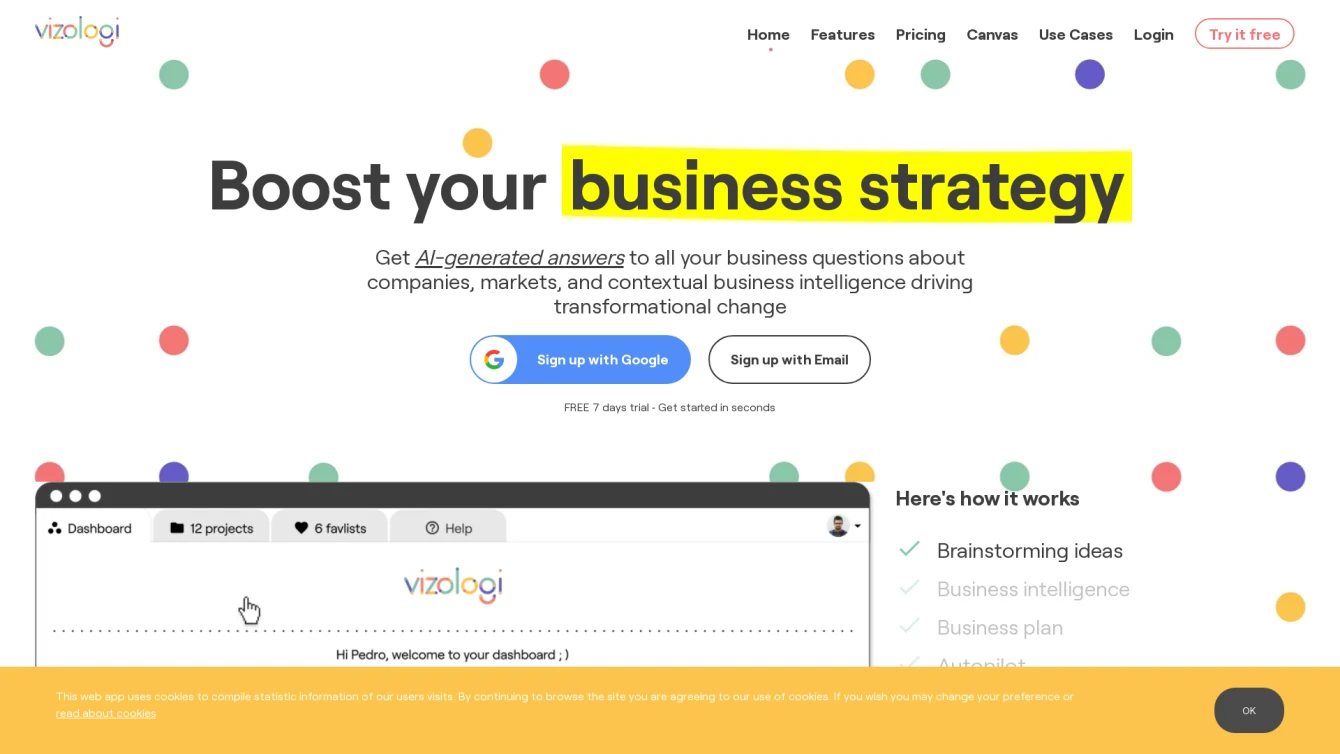 Unleashing Business Potential with AI-Driven Innovation Management.
Product information and features
Dive into the world of AI-enabled strategizing with Vizologi, an advanced tool designed to meet the needs of entrepreneurs, strategists, consultants, and students. This AI tool is equipped to provide you with AI-assisted answers to your pressing business queries.
Boasting a wide array of features, vizologi.com empowers you to brainstorm innovative ideas, conduct intricate market research, perform competitive analysis, craft distinct business plans, and even prototype. What sets it apart is its unique mash-up method, which pulls from hundreds of business models to help you spot fresh opportunities and construct your own unique models.
You can also use Vizologi to generate insightful reports and compelling presentations that can be instrumental in identifying new avenues and optimizing existing strategies. To ensure that you get a feel for its capabilities, it offers a complimentary 7-day trial.
Understanding the diverse needs of its users, it offers pricing plans based on credits, lists, and projects, each providing varying degrees of accessibility. Vizologi's ultimate goal is to help businesses cut down on time spent on market research and competitive analysis, enabling them to transform ideas into sustainable businesses and unlock new revenue streams.
Not just businesses, students too can benefit immensely from Vizologi. With just a few clicks, they can tap into a wealth of knowledge. In summary, Vizologi is an AI tool that accelerates innovation, provides a database of business model canvases, generates reports, and offers competitive analysis. It caters to businesses and students alike, helping in the discovery of new opportunities and the improvement of existing strategies.
Tell the world Vizologi has been featured on NaNAI.tools:
Vizologi Reviews
What's your experience with Vizologi?
There are no reviews yet.
Related AI tools to Vizologi